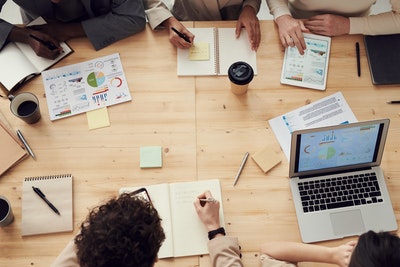 As soon as the coronavirus outbreak turned into a pandemic, the entire world has been grappling with the disease left and right. No one was prepared for the disaster. Rich and developing countries alike had to deal with the virus as one entire nation.
Now, as the total number of infections continues to rise, so has unemployment. In fact, even G7 economies reported a 2-8% rise in unemployment in the earlier months of the year. The informal economy also took a hit, with 1.6 billion people losing their jobs.
Fortunately, if you're a CPA or someone working in the finance industry, there are a lot of things you can actually do to keep a positive cash flow amid the global crisis.
If you are running out of ideas on what you could do, here are six finance business ideas you may be interested in starting this year.
#1 Credit Repair Services
The pandemic has taken a toll on everyone's finances. This means that a lot of people may have been forced to default on their loans. Others might have to take more credit than they can. This is where you come into play.
If you offer credit repair services, you will not just be earning great; you will also be helping a lot of people who need to get back on their feet and make their bad credit history go away.
#2 Finance Blogging/Vlogging
One of the most lucrative jobs on the internet right now is being a blogger or a vlogger. If you have a great personality on camera and if you know you're qualified enough to give financial advice to a wide audience, then you can give this a try.
Before you commit to starting your own Finance blog/vlog, be sure you have impeccable communication skills. Bear in mind, there are a lot of people already into this kind of thing. But if you sincerely believe that you have something new to bring to the table, then, by all means, make your content.
#3 Financial Software Development
Fintech is the language of the future. Soon, physical trading floors might be a thing of the past. Learning how to develop financial software you can sell or put up for a subscription is thus a worthy endeavor you can explore this year.
If you already have a background in programming and web development, you already have the necessary skills to make it work. Just add a couple of security levels to keep investors' money safe in your platform.
#4 Finance Coaching for Individuals
Evidence-based financial know-how is all you need to offer consulting services to businesses. However, you might find it challenging to get people to trust you without that CPA license to boost your portfolio.
We know gearing up for the licensure exam is totally nerve-wracking, but wordy not. Test-guide.com shares some great CPA review courses to help you suit up for what is to be the most important test you will take in your life.
#5 Financial Risk Management Consultancy Services
With that CPA license in tow, you can progress from coaching individuals to offering consultancy services to businesses. Recall that everyone gets protective of their assets in times of crisis, so risk management is one thing that enterprises would be interested to explore.
It's hardly the time to make bad acquisitions or enter into questionable partnerships. Aside from profitability, the sense of accomplishment you can get from helping small businesses manage risks at a time like this will be unmatched.
#6 Forex/Stock Trading
Finally, who says you can't trade in a crisis? The market may be volatile, but that's precisely how you can come across stocks that will never be as cheap as they are now. Some currencies are also widely regarded as safe havens, so you might want to start with that.
Whatever finance business idea you may choose from this list or come up on your own, preparation is vital. Equip yourself with tools and refresher courses to increase your chances of success!