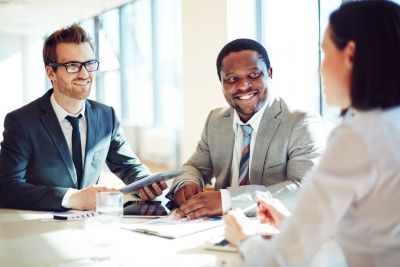 Finding the ideal person to fill a position in your company takes some time and attention to detail.
Ensuring you hire the right individual is vital for the reputation and continued success of your company, so spending some time screening potential candidates is definitely worth the time and effort.
There are a number of key factors to look out for during the interview process when you meet different candidates with a range of different skills and qualities, and below, we will outline some useful tips.
Pay Attention to Their Questions
Try not to focus too much on their past displayed on their resume, but pay attention to the kind of person you are talking to.
Someone who is curious about the company and eager to learn about your values and standards is likely to be passionate about the job role they are applying for. 
Ask the Right Questions
Interviews tend to be full of casual conversation alongside the typical interview questions that most candidates expect to be asked.
Be creative with the way you approach the interview to figure out in more detail how the potential staff member thinks and acts in challenging situations. Come up with scenarios that will help you determine the person's true self and attitude. 
Introduce Them to the Team
Let your employees help with finding the ideal new team member by engaging in group activities during the interview.
Even if this is just a simple ten minutes where the candidate shadows a current employee during their usual daily tasks, this will help you gain genuine feedback from your team and lets you see how well the person interacts with your staff. 
Look for Commitment
Consider how committed to their career the person seems by looking into their previous job roles and what education they have completed.
Look out for someone who has a track record of being loyal to companies they have worked for, as this is a really good sign that they will be committed to your company.
Make Sure They Fit the Job Description 
This should be an obvious step to follow. Make sure that the candidate has the right qualifications that are necessary for the job role and any relevant training or experience in the position you are trying to fill.
Hiring someone who is skilled in the role already makes taking them on much simpler and more straightforward. 
Determine What Kind of Person They Are
Friendly and approachable are qualities you should look out for, as hiring someone who is sociable and confident will benefit your company. Once you have chosen the person to hire, you might want to run a background check to ensure they are hiding nothing unpleasant.
You can use a site like https://onesourcebackground.com/, where you can get instant results to make informed hiring decisions.
When interviewing, remember to give them a tour of the company and answer all their questions as thoroughly as possible. It is important to show off all the company's best assets just as much as discovering the best assets of the candidates.