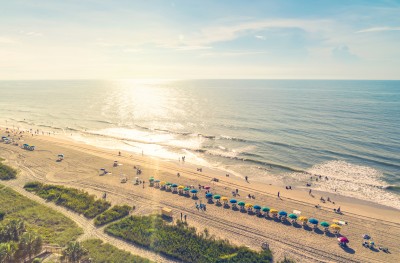 When you're planning a vacation in Myrtle Beach with the kids, you absolutely have to visit the beach. There are many wonderful beaches to choose from like:
Myrtle Beach State Park, where you may be able to catch a glimpse of the rare Loggerhead sea turtle if you visit in May.
Litchfield Beach features picturesque white-sand beaches and extensive biking trails.
Garden City Beach, where you can gaze at beautiful beachfront homes while you splash in the waves.
Although both you and the kids will enjoy spending time on the sand, everyone is likely to get restless if you spend all day, every day on the beach.
Mix things up and try a few other exciting things when you're in Myrtle Beach!  You can find myrtle beach vacation deals here.
Here are just a few ideas that the kids are sure to love when it's time to take a break away from the waves.
#1 Ripley's Aquarium
Just because you aren't getting your feet wet doesn't mean you can't enjoy the water! Ripley's Aquarium is a great way to get up-close and personal with aquatic life.
The aquarium features a 750,000-gallon tunnel called the Dangerous Reef that surrounds you with giant sharks. The Discovery Center allows the kids to touch real-life horseshoe crabs, while Ray Bay is home to stingrays and small sharks that can be petted.
Don't miss out on the live shows! All the kids will love Ray Bay Dive, where they can watch divers feed the animals, and the Mermaid Show is a must-see for girls and boys who love mermaids.
#2 Pirates Voyage Dinner and Show
Sometimes, even the kids need some time to sit down and relax just like the adults. That doesn't mean you can't be entertained while you're resting! The Pirates Voyage Dinner and Show is the perfect way to recharge and be entertained at the same time.
The Pirates Voyage Dinner & Show is highly rated by kids and adults alike because it is packed full of adventure, competition, and audience participation. A real-life 15-foot deep indoor lagoon complete with full-sized pirate ships helps too!
Not only will you be entertained, but you'll also get to eat dinner. It's a great way to spend the evening without having to worry about what everyone's going to eat when the show is over.
#3 Hollywood Wax Museum
Wax museums have a deep and interesting history that begins with Madame Tussaud. Today, they can be found all around the world, and with good reason. They're a favorite place among adults and children!
Of course, you'll see some of your favorite Academy Award winners and A-list celebrities, but the museum has more to offer. It features rotating attractions, like Outbreak, where you can come face-to-face with lifelike zombies.
Kids of all ages are sure to love Hannah's Maze of Mirrors. It's your job to find Princess Hannah while you discover hidden rooms and accidentally take wrong turns.
#4 Ripley's Moving Theatre
Ripley's is known for its Believe it or Not! stories. Originally a newspaper panel, today, it includes a TV series, books, games, and museums. In Myrtle Beach, Ripley's has a Moving Theater, unlike anything you've experienced before.
It offers a 5D experience, which means having your choice between two shows in 4D, but with the added thrill of hydraulic seats that completely immerse you in the story.
The theater is surrounded by gift shops, ice cream parlors, and Ripley's Believe It or Not Odditorium, so you can make a day of it.
#5 WonderWorks Myrtle Beach
The secret to happiness is buying experiences and not things. You're already on the right path since you're spending the money to go on vacation, but don't drop the ball as soon as you get there!
Instead of taking the kids shopping and wasting your money on stuff, they will forget about as soon as they get home, take that money and go to WonderWorks Myrtle Beach instead!
You won't find an attraction quite like this one anywhere else. With over 100 interactive exhibits that range from natural disasters to space discovery and a glow-in-the-dark indoor ropes challenge, the whole family will remain active all day long. It's a great way to tire out the kids so they sleep well in the hotel!
No trip to Myrtle Beach is complete without at least some time spent on the beach, but that doesn't mean you should spend your whole vacation on the sand! These ideas will enable your family to have fun away from the waves too.