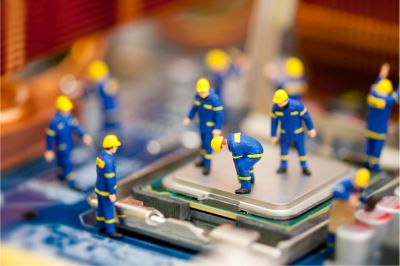 An office refurbishment may be needed if you are scaling, relocating or simply looking for a change.
Whatever the reason may be, it is recommended that you take a smart approach that gives the best results within your budget. After all, this is one of the biggest expenses that businesses make during their lifespan. At the same time, you would want to give it your best shot because the new look is something that you would carry for years to come.
When you do opt for the refurbishment of your working space, there are few things that you should bear in mind. Let us list a few things that you should consider while investing in this project.
#1 Have a checklist of your requirements
Before plunging into the project, have a checklist of your requirements and expectations ready. Start by thinking about the reason of the change, whether it is for accommodating more employees for your growing business, a lease being completed, making it health-friendly for the employees or just to get a fresh look for your office.
Think about whether you would want to relocate or simply renovate the existing working space. Consider your future expansion plans while chalking out a roadmap for the project. Once you have a checklist ready, you can move to the next step.
#2 Maintain brand consistency
While ideating the design for the refurbished place, make sure that you remain consistent with your brand's identity. Your working space's look and feel should be an extension of your marketing and advertising collateral and vice versa.
This is because you would want to give your clients the same impression everywhere, whether they visit your office, check your website or see you on billboards and print ads.
#3 Have a budget in mind
Right from the stage when you start considering a rework on your office, draw up a detailed budget for the project. While you can hire contractors for specific tasks like painting, fittings, furnishings, and plumbing, the better approach would be to look for refurbishment specialists who can look after your end-to-end requirements.
Survey the market and shortlist a few options that you can consider. Ask for quotes and finalize a reputed provider that offers the best services at optimal cost.
#4 Consider a timeline as well
Besides the cost of refurbishment, time is another crucial factor that you need to consider during the project. Time is money for businesses and you would not want the normal running of the business to be disrupted while the office is being refitted.
If you are renovating the same area, ensure that the key departments are left undisturbed, at least during business hours. Processes like IT and telecom migration needs to be done within a minimal time span. Also, get an estimate for the time required for relocation if you are moving office.
#5 Restructure with aesthetics and utility in mind
Getting a new look for the office is much beyond making it beautiful. A refurbishment project should prioritize utility as well. Discuss your design ideas as well as functional requirements with your interiors service. Let them come up with ideas for restructuring the cubicles, meeting rooms and layout in a way that space becomes a blend of aesthetics and functionality.
Do not forget areas like restrooms, pantry, and recreational spaces because these are important to make the place comfortable for the employees and visitors.
#6 Follow the trends
Even before your commission a design agency, do some research on the latest office design trends. After all, you would want an elegant and trendy design for the place when you are spending money. Knowing the latest in designs gives you an edge when you meet the interiors professionals because you will be able to judge how good they are.
Some of the latest trends include moving desks, standing desks, multipurpose workspaces, and use of natural light and natural materials. These trends ensure better productivity and well-being of your workforce.
#7 Have a long-term perspective
Office refurbishment requires a lot of time and investment, which means that you cannot expect to do it time and again. When you do plan it, take a long-term perspective. Seek the best interiors agency that gives sustainable design and uses quality material as well.
Prioritize durability and ensure that the design is scalable enough to align with the evolving needs of your business. Choose a look that gives positive vibes which you would want to retain for the years to come.
Your office is a reflection of your brand and you should not settle for anything but the best, whether you are setting up a new one or looking for a refurbishment. Ensure that the project is well-planned as this is the opportunity to get a holistic makeover for the look, technology, and functionality of your office.
Are you investing in an office refurbishment?