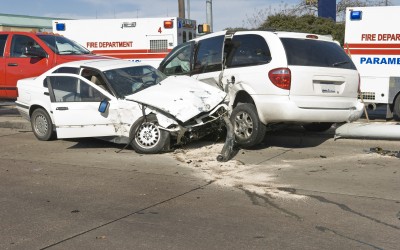 There are three levels of car insurance available:
#1 Third party only (TPO)
These policies compensate other people for damage you cause to their vehicles, property, and lives while behind the wheel of your car. It won't cover you for damage caused to your own vehicle, however.
It's the minimum coverage required by law for all vehicles in the UK, whether they're being driven or not, that hasn't been officially declared off road via a statutory off road notice (SORN).
#2 Third party, fire, and theft (TPFT)
These policies provide third party liability cover but also offer you compensation if your vehicle is damaged in a fire or is stolen.
#3 Fully comprehensive policies
The most extensive form of coverage, fully comprehensive policies offer all of the above coverage and cover you for damage caused to your vehicle in an accident at which you were at fault. They do what they say on the tin, effectively.
Almost any worst case scenario you can imagine with your car, from a rollover crash to a carjacking to a bonnet damaged in a hail storm, will be covered by a fully comprehensive policy.
Many of these policies also come with additional coverage including for vehicle rescue, for a courtesy car while yours is being repaired, for the replacement of keys if they've been stolen or lost, for a breakdown, and for legal expenses.
Some fully comprehensive policies can even offer you minimum third party liability cover while you drive a borrowed or hired vehicle, although this has become less common and you should always check the terms of your policy before getting behind the wheel.
The Ideal Policy
You'd ideally want a fully comprehensive policy, to protect you and your vehicle from any misfortune which might befall you, but you might assume these policies would be prohibitively expensive.
Car insurance is a significant expense for many motorists, sometimes costing a few thousands of pounds a year, depending on your age, occupation, and driving record. Only the cost of the vehicle and fuel is more costly for drivers.
You might assume you could save on the total cost of operating a vehicle by skimping on your level of insurance, opting for just the bare legal minimum, and hoping your car avoids hail, crashes, and other motorists.
Maybe you could slip a few pence into a piggy bank for your inevitable windscreen repair at some point.
The Cost
However, the comparative cost of the different types of car insurance is a perfect example of why you should always compare car insurance policies. Because, contrary to expectations and common sense, fully comprehensive policies are actually cheaper on average than third and TPFT policies.
When MoneySuperMarket gathered quotes for the different tiers of cover between January and June of 2018 they found that fully comprehensive policies cost £514 a year, on average; third party, fire, and theft policies cost £818; and third-party policies ran to £1,212 a year.
Confused? Why does more coverage actually cost less? Surely a policy with everything from key cover to a courtesy car would be more expensive than one that provides the legal minimum of insurance, right?
Ultimately, fully comprehensive policies are cheaper because of the drivers who qualify for and choose them.
For years drivers that insurers view as riskier—those under 25 or with motoring convictions—have been flocking to a third party and TPFT policies, either because they were unable to be approved for other policies or because they thought more limited coverage would be cheaper (and indeed, once it was). As the pool for these basic policies became riskier, insurers hiked premiums to meet their costs.
The Current Situation
That's how we've gotten to the current situation where, for most drivers, more coverage is cheaper than less. That's part of the reason 9 out of 10 motorists opt for fully comprehensive policies.
Those who do choose the third party and TPFT policies often do so because they're not aware of this quirk of the market or because they can't obtain other coverage.
A spokesperson for consumer group Which? explained the persistence of these basic but expensive policies in the insurance market: "The car insurance market is large enough for most drivers to find comprehensive cover should they want it.
However, some insurers may decide to only offer third-party cover to drivers in certain circumstances, including for younger motorists or those with driving convictions."
However, the number of third party and TPFT policies has dwindled in recent years. The lack of competition has only driven up the costs of the remaining policies on offer.
The fewer companies competing for your annual premiums, the higher your costs will be. Another reason to compare car insurance quotes from the most companies possible, using a comparison engine to see dozens in seconds.
So which type of car insurance policy are thinking about going with?