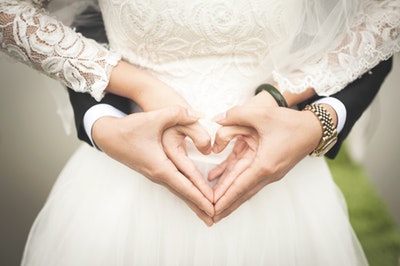 Your wedding is one of the most joyous and important events of your life. However, it can also be one of the most expensive ones as well.
A wedding can easily cost more than a year's salary depending on how you approach it. You certainly don't want such a happy event associated with a finical burden. That's why when planning your wedding you have to keep your budget in check.    
Wedding budgeting doesn't mean you have to cut corners. There are several ways to reduce cost without reducing quality. Here are ten tips to keep your wedding expenses manageable.
10 Ways To Control Your Wedding Budget
Have A Budget:

naturally to control a budget you need to have one in the first place. Your initial budget doesn't need to be overly detailed. A general idea of how much you can spend in total is an excellent starting point.

Prioritize:

every wedding is different. Once you know how much money you want to spend decide on what's important to spend it on. Some people want the best food, others the best entertainment, and some the best location. Focus on what matters to you.   

Invitations:

one area where it's easy to overspend is wedding invitations. You can save money by using dimple postcards or sending electronic invitations. Other ways to save include making your own invitations and ignoring more pricey (and unnecessary) options on purchased invitations.  

The Guest List:

when writing your guest list only invite people you actually want to be there. It's very easy to invite everyone you've ever had a passing connection with out of sheer politeness. However, not only does this drive up the wedding cost it also makes it a far less personal affair.  

The Venue:

when renting a venue consider the date as some days cost more than others due to popularity. A wedding hall isn't the only place to get married a local park or a place of worship can provide a cheaper alternative. If you have the room holding a wedding at home or at a friend's house can be a perfectly viable alternative.

The Dress: there are several ways to save on a wedding dress. Instead of buying from a bridal store consider a traditional clothing store as they will have cheaper prices. Money can also be saved by buying used or a dress from last season. Lastly, consider renting a wedding dress instead of buying.
Flowers:

can be quite an expensive addition to a wedding but you can have them on a sound budget. Consider growing your own flowers, only buying in season, or having your wedding in a venue that already has flowers such as a garden or park.

Food:

the key choice will be, "Do you want to hire a caterer or not?" Providing your own food saves money and many grocery store chains do offer a cheaper catering alternative. If you do choose to go with a professional caterer carefully review prices and food choices.  

The Rings:

the rings are one of the most important (and costly) parts of a wedding. As with a piece of jewelry, it's entirely possible to spend thousands of dollars on wedding rings. There are

cheaper alternatives

to traditional rings in terms of construction and materials. This not only allows you to save on cost but also make your wedding bands something uniquely yours.
Keep Cool:

finally, remember to keep calm. No wedding is perfect and mistakes or last-minute random occurrences always happen without fail. It's very tempting to spend more money just to make a problem go away instead of coming up with a solution. Stay relaxed, be prepared for small problems, and don't overvalue them.    
Final Thoughts
Keeping your wedding costs under control help avoid future regrets. Many people when looking back on their weddings have aspects they would have changed.
By keeping a careful eye on your budget these types of regrets are greatly reduced. Remember, you don't need to spend a lot of money to have a wedding that you'll remember for the rest of your life.  
What are you doing to keep your wedding budget under control?