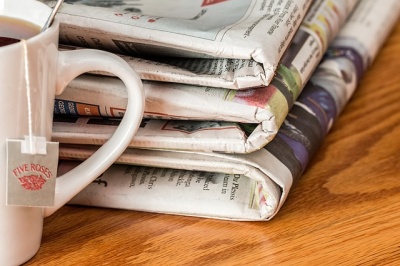 Digital marketing is an exceptionally effective way to promote your business. It's cheap (or even free) it's fast, and it allows you to reach a huge audience, almost instantly.
The rise of online marketing gives you a fantastic way to build a loyal and engaged customer base, that will share your adverts and content with their own followers, increasing your reach with no effort on your part.
It's certainly something that you should utilize to its full potential. Especially when you are first starting out. But, it's important to recognize that there is still a lot of value in offline marketing.
Don't get carried away with your digital efforts and fail to recognize the importance of getting out there in the real world.
Offline marketing is perhaps a better way to reach a local audience and increase footfall to your business, it can also be much more personal, people still trust physical things that they can touch more than what they see online, and it can have much faster results than a slow building online strategy.
Here are some great ideas of how you can market your business offline.
#1 Print Advertising
Print advertising is a fantastic way to reach people and give them information. It can also be used at a variety of different times. Print flyers to launch your business, but also to advertise special offers, changes, and new opportunities.
Print can be versatile. Don't just print flyers and leaflets. Get business cards, posters, billboards and even contact fleet and transit print services to make an impression by advertising on your company vehicles.
Another traditional print option is advertising in newspapers and magazines. But, don't waste your money advertising in places your target market has no interest. Think about what they are likely to read and take out an advert there.
#2 Networking
Face to face marketing can be incredibly effective. People like people, and who can sell your business better than you?
Attend networking events and lunches in your local area. Go to conferences, events, and meetings in your niche and meet as many people as you can.
Go armed with professional business cards, and marketing materials you've had printed and a fantastic elevator pitch and in-depth knowledge of your business that will help you to answer any questions anyone might ask you.
#3 Trade Shows
Trade shows are another great way to get out there speaking to people and selling your company.
Rent a space at local shows to start with, making sure you present your company well with trendy designs and branding, as well as offering up to date marketing materials. If you can, try to get a spot presenting to the crowd or as a featured speaker on a topic you know a lot about.
Trade shows are a fantastic way to check out the competition and learn more about your industry, while also allowing you to chat with market leaders, finding options to collaborate in the future, while also reaching prospective buyers and suppliers.
#4 Cold Calls
Cold calls aren't as popular as they once were, which is something that you can use to your advantage. Cold calls were once unimaginably annoying; most people just hung up as soon as they realized who was calling. Now, there's less cold calling going on, you've got a much better chance of getting your message heard.
Cold calls are much more personal than emails, and they demand an immediate response, they can't simply be ignored or deleted.
Work on your pitch, know how to sell your business in a few seconds, and respect your call recipient and their time. You've got a few seconds to reach someone, they'll decide whether or not they want to hear more with your first few words, so make sure you get them right, and that you've got the right people making the calls.
#5 Tell Your Story
People love a good story. So, instead of using your offline strategy to sell, tell a tale instead. Have your story printed on marketing materials or in offline publications. Use the space to explain your history, where you come from, how your business started and what you hope to achieve. Make this as friendly and relatable as you can.
To grow your business quickly, and efficiently, reaching the right people and driving sales or traffic, it's important to promote as much as you can.
So, have on and offline strategies. Think about your audience and who you want to reach and look at where they spend their time. Focus your efforts on interacting with them, and widening your audience, both on and offline.
So what offline strategies have you tried to market your business offline?  Share your thoughts, comments, and ideas below.
Cheers!