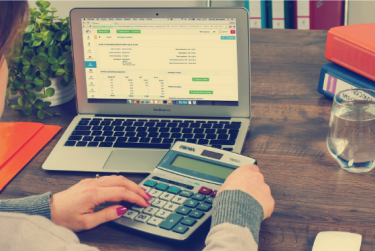 Back in the day, staying on top of your business finances used to be time-consuming, complicated, and an all-around headache.
However, today with increased technological resources available to us, a world of information available at our fingertips, and a whole host of specialists ready to help, it's really never been easier to understand how we can organize ourselves.
So here are our top tips on how to organize your company's finances and stay on top of them.
Technological Advancements
With all the technological developments that have been evolving in the World of business, we are in the best position ever to take control of our finances.
Intelligent accountancy software and highly individualized apps and programs enable us to take hold of our accounts and keep up to date with our figures, both present, and the past, and even help us establish our future financial forecasts.
So shop around online for systems, software, and apps that will make the bookkeeping of your business a breeze.
Allocate Regular Analyse Time
Setting aside a set amount of time a week to go through your figures, alone or with your accountant, will ensure you don't come up against any unexpected and unpleasant surprises along the way.
Too many small to medium-sized businesses only focus on their finances when problems come up or when it's time to pay taxes and this can cause a whole host of complications and problems in the long run.
So making sure you are going through everything from your weekly sales figures to reviewing the overall balance sheet, will give you a regular routine of financial management.
Meaning you are consistently organized and on top of your financial business activity.
Look at Company Expenses
Focusing on the regular expenses of your company is an important way to make sure you strategize where you need to cut back and where you can afford to invest a little more.
If your staff do a lot of traveling and face-to-face meetings, make sure that travel and meeting expenses aren't running a riot. Ensure that staff is responsible for expense accounts and that your accountants are controlling the amount being spent per trip.
Equally, you need to stay on top of the expenses of running your office. Regularly checking in on everyday business expenses from your basic overheads to your new system integrations will ensure you know where every penny of your outgoings is being allocated.
If you need to invest in larger items such as company cars look at the options available to you that aren't going to shake the shackles of your finances.
Shelling out for company vehicles is a big expense for any company so look around for the models that will best serve the needs of your company and reflect the level of functionality and professionality that you want to reflect.
Then look into different payment options with companies such as https://www.approvenow.com/bad-credit-auto-loan/, to see what low-impact payment plans are available to you.
Consultants and Financial Specialists
It's always a good idea, from time to time, to bring in the big guns. It's can be incredibly difficult to take a step back and look at the state of our business finances objectively.
It is likely that there are a number of finance options available to your business, and talking to consultants and financial specialists will help you to understand what these options are and how they can benefit you. They can also give you additional options that you may not have thought of.
Therefore hiring a consultant or financial experts at Focused Energy to come in, with a fresh pair of eyes, to look at the daily financial running of your business and advise you where you can make changes is a key way to make improvements where possible and where necessary.
Be Prepared to React to Change
Our businesses are constantly changing and evolving and so should our accountancy and the way we handle our finances.
Reacting to growth within our businesses should begin and end with the way we analyze and deal with the company's accounts.
So when you are enjoying times of financial success and growth think what are the next steps. Think about how you can either put that money back into the company or if it's best to put it into the company's savings for a later date.
If the company is having a rocky spell financially be quick to react with proactive decisions.
Be careful not to panic and make any impulsive knee-jerk reactions but instead take your time to calmly think about how you can pull back on your finances for a while without it affecting the balance of your business.
Also making sure that you learn from mistakes is one of the best ways that we can prevent the same mistakes from happening in the future, which will, in turn, strengthen our financial security.
So what are you doing to keep your company's finances organized?  Share your thoughts in the comments below.
Cheers!