Are you a safe driver?  Even if you've been in a few fender benders you may want to read this article.
Safe driving is a concept that encompasses a variety of topics.
Being a safe driver involves doing what you can to avoid accidents, properly maintaining your vehicle, and being responsible in the way you drive. Safe driving also plays a big role in your financial security.
Here are four ways safe driving and financial security are connected:
Accidents Are Expensive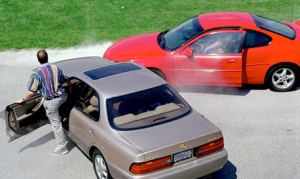 Image via Flickr by State Farm
One of the clearest connections between safe driving and your financial security is the fact that accidents are expensive.
When you are in an accident, your vehicle is damaged. Either your insurance company or that of the other party will cover the damage, but that doesn't mean every penny.
You may need to take time off work to deal with car repairs and meetings with insurance companies.
You may also have some type of injury, be it whiplash or something worse. While you may be able to recover damages, you may not regain full mobility; and that's if you weren't at fault.
If you caused the accident, you will need to account for these costs as well as pay out-of-pocket in some cases. You will also see your insurance premiums go up. Over time, that increase will phase out, but it could take years.
Now I personally have never been in an accident with another vehicle but I have hit a few deer in my time and the last one I hit cost me a whopping $3000.  Thankfully they didn't total my vehicle or it would have had to look for a new truck.
Safe Driving Discounts
Insurance companies reward safe driving through a range of discounts. Some of these are for the amount of time you have been with the company, whether you have other policies with them or whether you have taken a drivers' education class.
You can also get discounts for safe driving. Drivers with clean driving records maintained over several years tend to get the best rates, sometimes as much as 50 percent off their premiums.
This one thing that has helped my a bunch with my car insurance over the years.  With a clean driving record I've saved hundreds if not thousands.
If you are not a particularly safe driver, your insurance premium will be higher.
Just how high your insurance premium will be is based on how many accidents you have had, the time period during which those accidents occurred, whether you were at fault, the amount of damage done, the number of speeding tickets you have on your record, and how many other infractions you have received.
Safe driving can save you significantly, every month.
Staying Buyer Aware
Drivers also have a duty to maintain their vehicles, ensure that those vehicles are road-ready and guarantee their behavior is responsible. On the one side of this, there is the responsibility for the buyer to be aware of any recalls or known defects.
For example, consider the Takata airbag recall. Tracey Law Firm estimates that five fatalities and over 130 injuries have occurred due to the defective airbags. If such a condition exists, the owner of the vehicle is required to take care of the issue and to have the problem repaired, or the part replaced by the manufacturer.
If he or she is aware of the recall or known defect, does not comply, and that issue causes an accident, the driver could be held negligent and in need of legal help.
In some cases, this could mean that the insurance company will not cover the bill, leaving the driver to find a way to come up with the money.
Understanding Negligence
Being a safe driver also means doing your part on the road and keeping up with vehicle maintenance. Drivers have a responsibility to make sure their vehicles are well-maintained.
This means making sure that the oil is changed regularly; belts, hoses, and filters are replaced as needed; the tires are properly inflated and in serviceable condition; the turning signals and brake lights work; both headlights are in good working order; and fluid levels are within range.
Likewise, drivers have to make sure that their behavior is not negligent. Behaviors such as speeding, talking on cell phones while driving, texting while driving, not observing traffic laws, driving under the influence, and distracted driving are also considered negligent.
My Final Thoughts…
Safe driving and your financial security are intertwined. The safer you are as a driver, the greater your financial security. Accidents are not only expensive, but they may preclude you from receiving safe driving discounts.
If an accident is caused by these types of negligent behaviors, be it not observing a recall, not maintaining your vehicle, or simply not being a good driver, a driver could be considered negligent and forced to pay all damages without help from their insurance company.