Do you save your pocket change, or to spend it?  Sounds like a pretty legitimate question to ask, but have you ever really considered what you are doing with your pocket change?
The other week I was emptying my pockets and like usual I put a handful of change in a jar up on my dresser and the thought crossed my mind how much of change am I throwing away on frivolous expenses.
Whether it's a cup of coffee or a soda pop, a handful of change does not look like a lot of money, in fact countries like Canada have even stopped making pennies altogether because of production cost.  So I challenged myself to see how much change I typical end up with in a weeks time.
How Much Change Am I Wasting
After a few weeks of watching how much change I put in my change jar I concluded that I actually put between $3 to $4 a week in my change jar on a consistent basis.  That means in an average months time I'll put around $13 to  $18 of change in my jar, and in a years time that adds up to $156 to $216 I just throw away and spend frivolous junk.
Now a couple hundred bucks still may not sound like much but I could think of a million things it could do for me right now like pay down credit card debt, or help build up my emergency fund but yet this money seems to keep falling through the cracks of our finances.
So what can we do to fix this issue?
What I'm Doing With My Change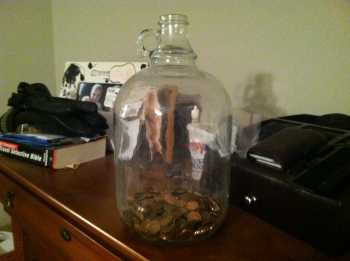 One thing I've been doing for the last 6 or 7 years is that I've started a penny jar, and any time I have any pennies in my change or find one just laying on the ground I will put them in my penny jar.  To the left is a picture of my penny jar and what was amazing about this is that I was able to fill it in 5 years and when I cashed it in I had over $80 in it.   That means I would have been throwing away around $16 a year in just pennies alone.
What's worst is people don't value pennies like they use to and I feel this is all the more reason to pick them up when you see one just laying around.  However when it comes to nickels, dimes, and quarters those are the coins I feel tend to get abused the most and wasted on stuff we really don't need to spend it on.
The answer to this is simple.  Determine what you really want spend the money on and save it for that purpose.  With a purpose behind saving the money I feel their is a much better chance it will be used for the right reasons and not on junk. Below is a list of great ideas I've seen people use their spare change with over the years.
Vacation. On great idea I saw was a family member who used their spare change to go vacation every year.  In fact they would purposely break a dollar when they would buy something so the rest of the change could go towards their annual vacation.  The great thing I like about this idea is that it can always seem like a pain to save money for a vacation and this can be one of  the easiest ways to do it.
College Fund. Another idea I've seen people do with their spare change is put it towards their kids college funding.  This way they'll have some money to go towards books and tuition fees.
Reward Yourself.  Finally, another great idea you could do with your spare change is save it for some sort of reward.  For example, once you get all of your credit card debt paid off you could use all the spare change you saved up over the years to go on a cruise or buy that something you've always wanted and what's great you won't have to rack up the credit card debt again either.
Is Pocket Change Worth Saving
When it comes down to it your spare change could be used for a lot of other great purposes.  The point is to figure out what that purpose is and start saving it.  I plan to start saving my change more purposefully and designating a reward I can look forward to with it.
What Are You Doing With Your Pocket Change?
[fmecalc cid="42″ w="600″ c="0″ s="3″ gs="1″ incd="1″ lid="V1-42-11-5-8″]