Back last year I wrote a review about Debtmerica Relief, a debt negotiation company that helps people get out of debt, and one of the things I've been noticing was that a lot of people were claiming Debtmerica and all other debt negotiation companies are a scam.
While I can't speak for all debt negotiation companies I can speak for Debtmerica Relief. So in this article I'm going to cover a lot of the misconceptions people are having with debt companies like Debtmerica and give you more in depth reasons why they do what they do.
Why Only Unsecured Debt
One of the big reasons people don't understand about debt negotiation companies is why they only except unsecured debt like credit card debt and not secured debt like a mortgage, and the answer is very simple.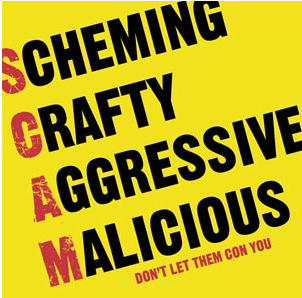 If you were to go 3 months without making a payment on a credit card what could the creditor take away from you?  Nothing, because a credit card is not backed by an asset. When you look at a mortgage it is a secured debt and if you did fail to pay the bank would take you home away.  However, some secured debts can become unsecured debts.
For example if your house went into foreclosure and the bank repossessed it and they didn't earn enough money from the sheriffs sale to payback the full amount owed they still make you liable for the debt owed.  However, now the debt is not secured because it is not back by an asset now.
Why You Pay One Payment
One of the big claims with Debtmerica and other debt negotiation companies is that the reason you pay them one lump sum payment is so they can disburse the funds accordingly.  While this is true for the most part there is another side to it as well.
Think of it this way when you get a mortgage, who gets paid first, your principle payment or the bank through interest payments?  If you're not sure just go to any bank and ask them and they will tell you based on almost any normal amortization schedule that the bank always gets their money first.
Debtmerica and other debt negotiation companies are no different.   They do this because they know a lot of people won't stick with the plan and will probably quit before they complete the program.  So what do they do, they pay themselves first.
Why You Still Get Calls From Debt Collectors
If you're delinquent on any of your bills for more than a couple of month's debt collectors will start calling you.  However one of the big misconceptions is that once you start the program the calls will stop.
In reality though it just don't work that way, in fact they may even call you the entire time you are in the debt negotiation process, or even after you have paid off the debts.
What Killed My Credit
Another thing many people don't understand is the fact that debt negotiation will likely hurt your credit score.  Think of debt negotiation like a mini bankruptcy, but not with as much of a damaging effect unlike its older brother.
There are two reasons for this,  first debt negotiation companies always get paid first like I mentioned earlier and second they may be purposely not paying one debt so they can pay off another.
Missing a payment or two on a debt can be like the kiss of death to your credit report however it's not as long lasting like bankruptcy were credit score will be totally trashed for the the next 7 years.
Why Am I Getting Taxed
One of the things a lot of people don't consider is the tax issues you might face when you go through debt negotiation.  For example, let's say you have $30,000 of credit card debt and Debtmerica was able to cut $17,000 of your debt off and you only had to pay back $13,000 of your credit card debt.
The result would be that you would still have pay the taxes on the $17,000 of debt.  However, if you want to know how your situation would be effected call you accountant before you get involved with Debtmerica Relief.
What Are The Fee's
First off a lot of companies don't usually disclose their fee's upfront.  With Debtmerica it's somewhere between 15% to 17% of the total amount of debt applied to the program.  For example, if you had $30,000 of debt in this program you could expect to pay them around $5000 in fees paid monthly.
Now you might be saying is that really worth it or not, and the truth is it all depends on everyone's situation.  If it saves you in paying $5000 or more in interest payments and get you out of debt sooner it could be very much worth it.
However, I suggest you investigate what all of your fees will be before you sign on the dotted line.  There's nothing like finding out after the fact that you got ripped off.
Can I Get Sued
The reality is that if you do become delinquent on a debt the creditor has the legal right to sue you for amount owed.  Will it happen is another question though.
I've only heard of this happening in very rare instances, but know that it can happen.  I also believe any reputable debt negotiation company like Debtmerica would not likely put you in that situation.
Do You Have A Question
I've covered a lot of the questions many people have about Debtmerica and debt negotiation companies but I'm sure I've missed something so give me a shout if have a question and I'll do what I can to help you out.
Chris