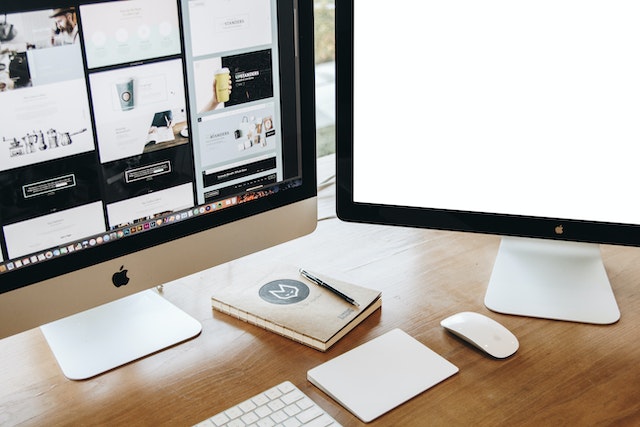 Businesses of today are competing heavily with each other to emerge victorious in this race to the top. What company doesn't want a solid reputation attached to its name?
However, to achieve this feat, businesses need to work hard to create a strong identity for themselves, and this is only possible if they have an appealing portfolio to represent their image.
The primary purpose of a portfolio is to present a collection of services, products, and accomplishments your company has achieved so far for your customers.
A portfolio gives your clients valuable insights into your current market value and how well you're faring compared to other businesses within the same niche. So the question arises: how do you make this portfolio? Here's what you need to know:
1. Don't Hesitate To Show Your Creativity
Designing a portfolio is one chance to show how well-developed and diverse your company is, so you shouldn't hold back from letting your creative side show.
Understand your consumers want a visually appealing portfolio; they're not interested in something that looks mundane and too monotonous. Therefore, incorporating visual elements is the best way to make a portfolio enticing.
These include high-quality images and illustrations. But you can't simply use any picture you pull from the search engine. You need to have the right to use and print a picture. This is where pro stock photos come in. Stock images are designed for commercial use.
While most are free, you can access more high-quality photos for a premium price. Integrating stock images, illustrations, and infographics into your company's portfolio makes for an exciting project.
Ensure that the images follow the context and that you're not randomly adding colorful pictures to make your portfolio look enchanting.
2. Know Your Target Audience
Defining your target audience is essential. You need to know how you're designing the company portfolio. This will help you decide what goes on in the portfolio and what information is relevant to your audience.
For instance, how you design your portfolio for your clients vastly differs from how you'll make it for your investors.
Even within your clients, you need to specify what aspect of your demographics you are designing for. When you have a particular age group in mind, you can quickly analyze their consumer behavior and curate content accordingly.
3. Keep It Interesting
No one has the time to read large volumes of text or needless information. When designing your company's portfolio, understand that your consumers will only give you a few seconds of their time to read through.
Hence, you can only create a lasting impression in a short period. Therefore, keep the content concise and to the point. It would help if you only highlighted information you feel your consumers will benefit from.
Likewise, when arranging information in the portfolio, ensure it's done neatly and legibly. Don't cluster the data together; it would help if you used bullet points, subheadings, and visuals to partition the text.
If you create a jumbled mess, no matter how exciting your portfolio is, no one will engage with it.
4. Provide Details On Products and Services
Your portfolio is incomplete if you don't describe the products and services the company offers. While highlighting everything the company accomplished is essential, showcasing what services the business provides makes it stand out is equally crucial.
If needed, you can look into creating a different product portfolio where you can give specific details on each product chronologically. However, go easy on the technical terms.
You want your consumers to understand what your company does, not glaze over these fine details.
5. Bring Social Media Into the Mix
In today's savvy world, a strong social media presence is vital for a company's credibility. Consumers will believe anything they read online, so if you want to come across as trustworthy, you need to provide social proof of how well the company is doing.
Picking up material from social media is tricky. You want to ensure you add compelling quotes and success stories that will speak to your audience and illustrate your company's positive impact.
Furthermore, don't forget to include customer testimonials; these make your brand more transparent and build a reputation for your company that can attract future consumers.
6. The Format and Typography Also Hold Weightage
Imagine you have all the information you need organized, you managed to compress the details into a few sentences and have your bullet points prepared, but you're unsure how to arrange this information and what font to use.
Aesthetics also plays an integral part in your portfolio design. Your color palette will either attract consumers to check out what you designed or completely turn them away.
Understand that the font needs to stand out from the background. So don't use a shade that causes the fonts and the background to blend.
Likewise, the type of font you choose always contributes to the success of your portfolio. Stick to fonts that look professional and easy to read. You can test different typographies until you know the font style and size.
Once you get these factors out of the way, you must worry about the format. The information you organize needs to be aligned. Use margins so the paragraphs flow and don't look like a haphazard mess. The idea is to create a clean and professional look.
7. Make Sure You Optimize The File
Your portfolio should be both digital and available as a hard copy. This will allow you to reach a wider audience.
For this reason, when designing a portfolio, ensure it looks as good on print as on-screen. Generally, what looks good digitally doesn't reflect well on print.
The fonts may be too small, the color gradient may be off, or the information seems disarrayed. The idea is you want to maximize readability without compromising on the quality of what you created.
Final Thoughts
A company's portfolio is an integral marketing tool. It is a way for businesses to connect with their consumers and win their favor.
Your clients need to know what your company is known for, which is why you can't take the job of designing a portfolio lightly.
This is your only shot at collectively exhibiting what your company is known for, what milestones have been achieved, and what your business plans to do in the future.
Remember this information when you design a portfolio: organize all the details you collect, make the data coherent, and don't forget to make the portfolio aesthetically pleasing. As a result, you'll end up with an impressive portfolio for your company.