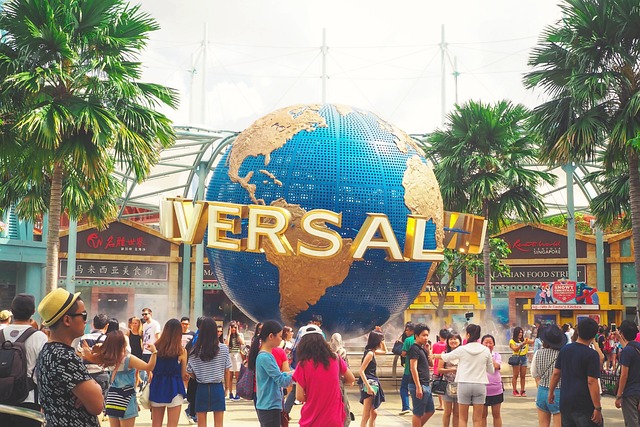 Most people think of summer vacations as a time to relax and take it easy.
But there's no reason why you can't have just as much fun on a summer vacation without spending all your time lying on the beach.
In fact, there are plenty of activities that are perfect for summer vacations for those seeking adventure, adrenaline, or simply just something a little bit different. Here are just four ideas from all around the world to get you started.
1. Explore The Theme Parks Of Florida
For the coaster-heads out there, fewer places on the globe offer the same amount of thrills and excitement as Florida.
The Sunshine State is home to some of the most iconic theme parks in the world, such as Walt Disney World, Universal Studios Orlando, Busch Gardens Tampa Bay, and SeaWorld Orlando. There's something for everyone in these fantasy worlds filled with thrills and adventure, as well as familiar characters from movies and TV.
With so many places to explore, you may wish to consider spending an entire summer in Florida. Should this be the case, an extended hotel stay could be the perfect accommodation solution.
Places like https://www.myroost.com/extended-stay-hotel-tampa-florida offer travelers a great balance of home comforts and hotel perks, with a variety of rooms and living options to choose from.
So, whether you are visiting theme parks with friends, a partner, or your family, you should be able to find the perfect place to rest your head before the next day of thrills.
2. Visit Dracula's Home In Transylvania
Summer vacations can also be a great opportunity to learn and explore. One of the best places to do this is Transylvania, Romania, the legendary home of Count Dracula.
Transylvania offers an unparalleled adventure for those looking to experience the history and culture of Romania. With its vast mountains, rolling hills, and spectacularly beautiful landscape, the region is a paradise for nature lovers.
For over 2000 years Transylvania has been home to some of Europe's oldest cities and towns full of unique architecture and culture that are waiting to be explored.
For those specifically there to learn about the infamous vampire, Castle Bran famously referred to as Castle Dracula, is a quiet but imposing landmark nestled in the Carpathian Mountains of Transylvania.
The castle's true origin remains a mystery, though it is known to have been built sometime in the late 13th century by Saxon settlers under the Teutonic Knights. Visitors can explore the castle, learn about its history and, if they time their visit right, catch one of the special events that the castle puts on.
3. Enjoy Water Sports In Goa
Goa is one of the most popular tourist destinations in India, and it is well-known for its lively beaches and vibrant nightlife. But it has much more to offer than just sun, sand, and sea for adventure enthusiasts looking to experience something different.
From speedboat rides and jet skiing to kayaking and stand-up paddleboarding, there are plenty of water sports for visitors of all ages to try. For a truly unique experience, try your hand at kitesurfing or windsurfing – the strong winds here make it an ideal spot to catch the wind and really give it a good go.
Those interested in what lies beneath the water's surface will find themselves truly spoiled in Goa. Both snorkeling and scuba diving are great ways to explore the marine life of this region, as they offer an opportunity to observe the colorful and vibrant coral reefs from a close distance.
With crystal-clear waters, you can also explore the depths of Goa and get up close to some of the most exotic underwater creatures in their natural habitat.
4. See The Shire In New Zealand
For movie enthusiasts, the chance to see where some of their favorite movies were made is a very exciting one indeed. And, for fantasy lovers, it doesn't get much better than The Shire.
The stunning landscapes of The Shire, located just outside of Christchurch in New Zealand, were used as the main filming location for both The Lord of the Rings trilogy and The Hobbit movies.
This picturesque natural beauty, home to lush forests, rolling green hills, and crystal-clear streams, provided the backdrop to some of the most memorable scenes from these beloved stories.
Visitors to The Shire can also explore Hobbiton, the unique movie set created for the Lord of the Rings and The Hobbit trilogies. Built to scale over a period of many months, this picturesque village was made to perfectly resemble what it would look like if real hobbits were living there.
A variety of guided tours, from walking tours to horseback rides and even off-road vehicle adventures, are available to make sure that visitors of all ages get the most out of their experience.
Final Thoughts
Summer vacations don't have to be all about relaxation and spending time on the beach or by a pool in a hotel. You can also use your summer vacation as an opportunity to learn new things and explore new places.
So, if you want to try something new, we have just shared four ideas with you that you could potentially consider adding to your travel bucket list for the future.
And, of course, there are so many more options out there waiting to be discovered, so get out there and start exploring – you never know what you might find!