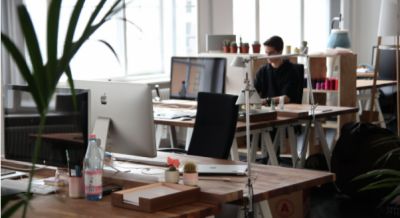 After the success of a few "experimental workspaces" in the 1990s, metropolitan areas all over the globe have since given birth to thriving shared offices known as coworking spaces.
The number of these communal office facilities has grown phenomenally, and business insiders predict that the growth of coworking spaces will continue to rise. What has contributed to coworking success?
According to a 2013 report from Business.com, survey results indicated that coworkers reported up to 50 % more positive effects in the following areas:
Social circle
Less isolation
Networking
Productivity
Skillset
Income
Work and life balance
Health
These benefits might appeal to corporate workers who are tired of their office cubicles or the self-employed who feel a bit lonely.
But is the communal setting ideal for completing tasks? There seem to be several features that make coworking an efficient and productive solution for freelancers and small start-ups.
In 2015, Harvard Business Review narrowed down three critical reasons for increased productivity for coworkers.
The Job Becomes Meaningful
When workers join a community, they often feel they are contributing to something essential and meaningful. When surrounded by a group committed to meeting a common goal, employee dedication increases.
Therefore, they want to stay at work longer or arrive earlier to put in more hours.
They Have Control Over Their Work
When people can manage their schedules and set their deadlines, they have a sense of control that they might not have in other work settings.
They have more freedom to make decisions about when they work, which allows them to balance their work and personal commitments. Overall, they experience less stress.
They Enjoy the Community Atmosphere
When working side-by-side with team members, coworkers can reach out to each other if they need help. Coworking spaces seem to encourage mentoring and sharing of ideas naturally. Supportive work environments make employees happy, which leads to more hours dedicated to the job.
It might seem counterintuitive if you prefer working alone, but experts indicate that it's the group setting that encourages productivity. If you are considering moving to a coworking space, and you want to make sure you choose the right location to work steadily, look for these features:
Open Work Spaces
Without cubicles and enclosed offices, employees and managers can interact easily. Managers and supervisors will see issues first-hand and can remedy situations more quickly.
If you have a group leader assigned to keep people on-task, you might be less distracted than if you were in your cubicle constantly checking your email or social media accounts. Many coworkers report that they remain attentive to keep up with the workflow due to the constant brainstorming.
Opportunities for Networking
Coworking facilities attract professionals from various industries. When you sit down at lunchtime, you might meet someone who comes from a completely different background but could also share ideas that offer you a new perspective on your work.
You never know if the person you met in line could offer a business lead while you were getting coffee.
Social Activities
Many coworking spaces offer group events allowing you to socialize. Remember that you need to balance having fun and staying on task, but you might benefit from a short break from time to time. You'll have the opportunity to make friends and feel more connected to the facility. You might also end up putting in more hours without feeling burdened because you'll feel more motivated.
If you need a break from the commotion, you should be able to find a quiet zone to help you concentrate. Finding your niche in a new workspace might take some time, but eventually, you will find your ideal setup and routine.
Get ready for kudos for a job well done!