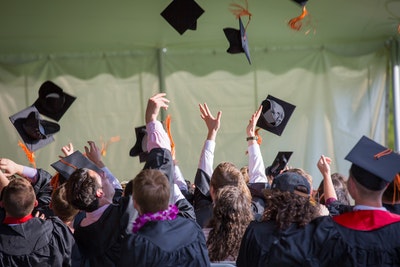 It's a strange, unprecedented time in the American economy. The job market is in an odd place, with many people needing jobs and unemployment benefits decreasing incentives.
There are also college graduates. Those who graduated from college in 2020 are struggling to find a job. 45 percent of them are still looking for work. It is an uncertain time for both companies and people looking for jobs, but this can lead to some benefits.
If you understand what you are getting from a college graduate, you can find your match and find employees who will be loyal and trustworthy.
If you're looking for people to grow with the business, look into college graduates and you just may be surprised about what they can offer.
They are fresh, motivated, and full of energy. Here are some things to think about when you're hiring them.
1. They Don't Have Experience, but This Can Be a Good Thing
The biggest disadvantage of hiring college graduates is that they don't have experience. But what if we look at this as a benefit, not a drawback?
Not only are recent college graduates hungry for work, but they also have not been trained poorly. You have the opportunity to mold the perfect employee because they don't have much job experience.
You won't have to undo bad habits. Since most of these people will be highly motivated to experience the real world, this provides a blank slate for cultivating growth in the employee that could last for years into the future.
2. Background Checks Still Matter
You might think that since the person hasn't had much job experience that you don't need to run an employment background check.
Background checks provide the necessary information that will be useful to you including criminal history, previous names, and residences, as well as employment and education verification.
Think about if you were a new graduate. It is quite tempting to embellish or lie on your resume if you think that it will help you get the experience you need.
Background checks rule this out because you have the ability to determine if the person is being honest and transparent.
3. You Might Want to Start Them Off at a Lower Position
Even if you have a position in mind for the college graduate, you might want to think about starting them off at a lower, entry-level position.
This gives you a way to see how they do when they are put into a professional setting. If you are clear that there is room for growth, the candidate will want to work hard to get there.
It also provides the opportunity for you to revisit your budget and determine what you can afford to pay the employee, not just for the entry-level job but for the future position. Hiring them at a lower position offers a grace period and a way to alleviate the pressure.
4. They Won't Be Used to Working
No matter how great the candidate is and how many jobs they've had, if they have graduated college and are going into a new, white-collar or professional field they won't be used to it.
Managing your expectations is important. While the employee won't be familiar with the type of environment, you will be able to see very quickly if they are cut out for it.
It doesn't matter what field you're in, you should always take on college graduates at a slow pace to see if they are capable of doing the job. When you work with them slowly over time, you just might find one of your best employees as a college graduate.
When it comes to hiring, there are a lot of moving parts even more when you are hiring recent college graduates. It's vital to manage expectations and to understand where they're coming from.
If you motivate them to level up in a new position, they will likely work harder. These graduates are inspired by opportunities. Hiring new graduates is a risk, but it can lead to some pretty great rewards.
You can pay them less and cultivate the perfect employee. Just keep these things in mind and you'll be able to move forward with them.