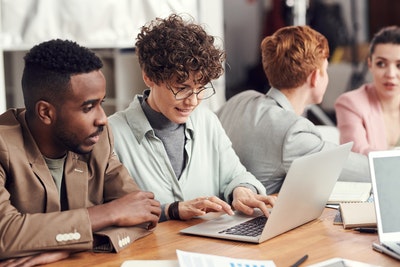 Getting your business off the ground is challenging. You need to put in lots of effort and keep patience. But your struggle does not over here only.
When your company is growing, you need to deal with different challenges for its success. Proper planning and effective strategy formulation are the two tools for business success in less time.
Today, the internet has also played a vital role in an uplifting business brand image quickly. Therefore successful business shifted to a website, social media, and mobile applications to attract users and convey the company's message.
In addition to these, there are more strategies in this write-up for your business's success. Let's have a look at them;
Understand Market Trends And Target Audience needs
1. Recognize Your Target Audience
Understanding your audience is the first step for business success. Therefore, look at your target audience and then decide your product and marketing directions.
For instance, if you want to target new mothers in a particular area, you have to look at the birth rate in that region. There are different ways to know about your new mom's data. You can conduct an online survey for expected women, look at government past statistics.
It will help you to know how many units you need to manufacture a particular product.
2. Understand The Needs of Your Customers
When you have done market and target audience research, the next thing is to think about their needs.
Continuing the same example of new mothers, they need baby products that help to make their tasks easy. For instance, mothers will look for baby shampoo, soap, feeding bottles, diapers, etc.
Now, you have to work on deciding which product you want to choose that can help mothers and boost your sales.
3. Research Market Trends
Knowledge about what is going on in the market is crucial. It helps you to choose between show-off products or healthy choices.
Like, new parents are more conscious about the baby's health and conduct complete research on the internet before buying anything. Therefore, the trend for organic product usage for kids' health is rising.
You can also participate in the race, but with something new and unique. It helps to create needs among parents and motivate them to buy for kids better health.
Identify New Opportunities For Growth
4. Expand Your Product Catalog
It would help if you also expanded products and services apart from considering your customers' needs and market trends. It helps to make your wider customer reach, and customers get choices at their favorite brand.
For example, you are currently dealing in garments, expanding your product range, and offering bags, shoes, and accessories. A wide product range can make your store a one-stop-shop destination for the target audience. And this is something everyone wants from their brand.
5. Widen Product Accessibility
Nowadays, tech-savvy people want everything at their doorstep. Therefore, it's a time to enhance your product and customers' reach through various tools and technology.
Websites, mobile applications and creating multiple brick-and-mortar stores, franchising your business are the few techniques to grow your business without geographical barriers.
If you found any of these tricks costly and currently out of your budget. In that case, you can look for other cost-effective marketing expansion strategies.
Innovate Your Business Approach
6. Leverage The Connectivity of The Internet
According to a Statista report, there are more than 298 million smartphone users in the US. This is great data that defines the scope for your business growth through online channels.
Creating and maintaining business through a website is one of the most effective strategies. People can get to know about your product and services through the official Website. You can even offer lucrative offers such as rewards points, vouchers, and promotional gifts to attract an audience.
In this range, you should also follow an array of social media platforms for business promotion.
7. Improve Accessibility Through Mobile
Mobile applications set another market opportunity for business success. Therefore, more than 4 Billion businesses are available on the internet through mobile applications. The increasing trend of mobile apps opens up a gateway for great opportunities for businesses and customers. Some other factors such as SEO, references, ads, links provide organic traffic to websites. Availing them helps the growth business.
Explore Collaborations And Partnerships
8. Evaluate Alternative Business Models
If your current business approach is not achieving fruitful results. This means it's time to develop new business models.
You can look for a franchising model, acquiring other businesses, or others to support your company. But, in every model, you will have to work on an effective corporate communications system.
It will help to build your brand image and convey a clear message to customers, investors, stakeholders, or others. It would be best to work on the company's strengths and weaknesses with other business models to identify areas for improvement.
9. Diversify Through Partnerships
Building potential strategic partnerships with other businesses is an effective business idea. It helps you to empower your workforce and bring new resources to the workplace.
Collaboration with complementary companies is also proven an effective way to expand your product catalog. For instance, professionals like electricians, plumbers, and other service providers shake hands. It will help the customers to get all essential services under one roof.
Similarly, major brands can also do a partnership deed and serve the customers with a wide range of products.
10. Invest In Alternative Income Sources
Your business or partnership should not focus on only one source of income. You must create alternative ways to generate passive income and help the business to flourish. Some of the common alternative sources are
investing in shares,
Creating useful YouTube videos
Renting income
Apps creation
Real Estate Investment
Mutual funds, investments, etc
Bottom Line
Today, it is easy to grow business leaps and bounds, all you need to do is to work in the right direction before implementing any plan. Therefore, begin by understanding market demand, customer reach, and look for things that are in high demand.
Searching online, offline, or both for new opportunities can help to expand customer and marketing reach. You can also consider partnership options to expand your business.
Remember, whether it is related to a market search or a business communication with internal or external, do not hesitate to take assistance from professionals for business success.