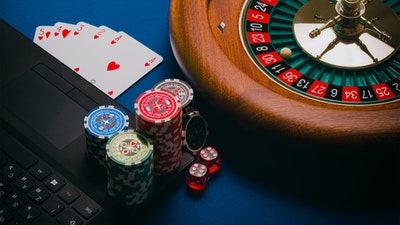 The slot industry has evolved over time. Since the slot machine's initial creation, it has always been at the forefront of new technological advancements.
Today we are seeing a period of unprecedented growth in the industry including King Casino, looking back on the slot's humble origins it can be quite unbelievable to see just how far it has come.
1. Mechanical
The first iteration of a slot would be barely recognizable as a slot today.
It featured clunky controls and reels, it didn't even pay out real money and was initially only used as a game between friends. The first recognizable slot, the Liberty Bell, was created at the beginning of the 20th century.
It was a three reel slot and was designed by a man named Charles Fey. It featured symbols that are still used in slots today, it used a lucky number seven, horseshoes, and various playing card suits.
2. Electric
As time went on, slots became more and more popular. They spread across the globe, in particular the United Kingdom. In 1963, the very first electrically powered slot was created.
This was different from a mechanical slot because it allowed players to operate the slot without the need for help from casino staff. The slot was also able to pay out any amount to players, something the mechanical slot struggled with because it had a coin limit.
The slot was created by Bally and was called the Money Honey. It soon became a favorite amongst slot players and its incredible popularity led to the decrease in mechanical slot machines.
3. Video
Created by Fortune Coin Co. in Las Vega, the very first video slot originated in 1975. It used an altered color receiver for its display and was able to perform all traditional slot machine functions.
The video slot machine enabled animations and graphics, better sound quality, and an easier playing experience. It was soon approved by the Nevada State Gaming Commission and was a hit amongst players in Las Vegas!
Eventually, Fortune Coin Co. was bought out by much bigger developer IGT in 1978, IGT had the funds to be able to distribute video slots all across the country. In 1996, developer WMS Industries released Reel Em. This slot was the first of its kind to have two screens, when the player triggered a bonus round they would be taken to a completely new screen!
4. Online
While the explosion of online slots did not take place until the 21st century, the very first online slot games were developed during the mid-nineties.
Online casinos were in their infancy during this time, the games were not as detailed or complex as today's online slots.
The first online slot was released in 1996. It could be played on computers from home, as long as players had a working dial-up connection of course!
Final Thoughts
Throughout the 20th century, there were a lot of technological advancements with slot machines.
Nobody could have predicted that clunky mechanical slots would be replaced by sleek online slots, so we can only imagine what further advancements will be made throughout the 21st century.