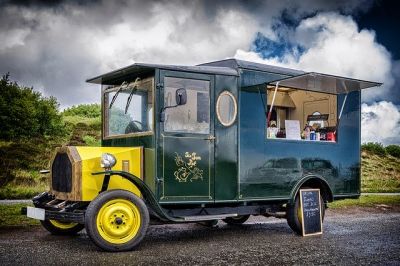 If you are looking to enhance your foodie venture, you might be tempted to expand your eatery into the street food sphere.
As the global pandemic has hit the food and hospitality sector hardest, you need to rethink your business model. Restaurants are now sitting empty as lockdowns are becoming more prevalent in an effort to combat coronavirus.
To make sure that you can thrive rather than just survive through these turbulent economic times you need to enhance your food business by following these three simple steps.
#1 Operation
You need to consider how you will operate as a new street food business. You could select a traditional food van, or you could think outside the box to generate a more novel way of serving your grub.
If you are after an achingly cool street food vehicle, take a look at the kooky, vintage horse trailers that can now be converted very cheaply into full catering kitchens complete with electrics and gas.
You can click for some examples of the pneumatic cylinders you could use to set up your hot and cold fill processes. These small little units can fit alongside the bigger vans at a range of events.
You may find that your clientele broadens to happy couples celebrating their wedding who want something cutesy and niche for their reception. Street food festivals are a great way to get your cuisine to the masses so opt for a unit that is mobile and gives you the freedom to travel.
#2 Food
Remember, you will no longer be serving up three-course sit-down meals anymore. The sophistication that you could offer in a restaurant cannot be emulated in a street food sense.
However, you can still serve up rustic authentic fayre. If you are keen on emulating food from your heritage, think about serving this up in sustainable bowls alongside bamboo cutlery.
If you are more into fusion cuisine, think about the sort of foods you want to combine. Mexican crepes and Indian fish and chips are now some of the most popular eating styles across the country.
Street food is relatively cheap to produce and cheap to buy from a customer standpoint. If you hit the correct price point, you can tap into the new street food psyche of the millennial market.
#3 Travel
As traveling has been impacted by the coronavirus, people are struggling to scratch their wanderlust itch. If you are able to offer some street food from across the globe, you can tap into this mentality.
The finest street food avenues like Dotonburi in Osaka, Japan serve up some of the most incredible sushi, takoyaki, and melon bread. People often travel with cuisine in mind and will select a destination based on the culinary experience they can enjoy.
If you are keen to revolutionize your business model, you can investigate the wonderful world of street food. More flexible, easy to manage, and exciting, is a street food vendor that could open up your diner demographic and help you to change your brand for the better in a pandemic world.