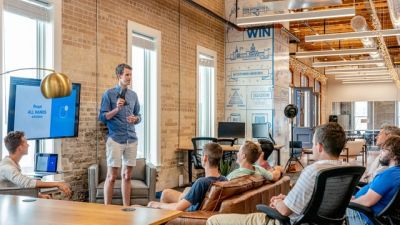 Maintaining impeccable communication within your business has a large influence on the commitment of your employees, the loyalty of your customers, and therefore the success of your business.
So how do you create an information system likely to boost the performance of your company? There are plenty of ways; but first, the key item is to ensure that you are well aware of any issues that are arising.
Are they struggling to communicate via the telephone? Is there a lack of information? Once this is attained, you can certainly look at ways to solve the problems.
A well-oiled engine
Developing better communication between team members is like oiling an engine: the team works together harmoniously, each member brings their skills to the project and the different parts of the project adjust naturally.
The project is then understood in its entirety, productivity increases, the project is completed on time, which improves business continuity and results in skyrocketing results.
Not only will you likely see an increase in your turnover, but you will also discover other benefits of implementing better communication.
Communication is more than just one-on-one talks, although this form of communication should never be overlooked. It is according to the members of the team and the requirements of the project that different types of communication will be defined.
Technology plays a significant role as a communication tool in this case, and when used effectively, it can save valuable time and improve efficiency. Are you communicating often with people who are away from the office?
Perhaps at events or outdoor spaces? Any teams that need excellent communication at all times should opt for some type of radio system that conveys clear and reliable communication.
You should certainly look at Altech Electronics Inc. This includes messaging, data applications, battery life, voice, and data communication, which optimizes all communication.
Upgrade your business' systems because this too can have a positive impact on the way people connect. There is nothing more powerful than an actual conversation that is not over email; so be sure not to neglect the upgrade of any phone systems.
Develop a great team spirit
A team that gets along well will automatically communicate better. Even today, during the issues of Covid-19, we need to ensure more than ever that we are communicating whilst we are away from the office environment.
Building a team spirit not only gives everyone the chance to get to know each other better but also creates an environment where everyone feels that participating is worth it.
Look at team-building opportunities and new skills that your team could learn to help improve their communication. These are great business ideas to follow up on.
Communication training is unfortunately too often neglected, and yet setting up this type of training really improves the quality of teamwork as a whole.
Whether you have to work with a remote team or in an office, good communication is an important factor in the success of a project. Therefore, developing effective communication should be one of your priorities as a business leader.