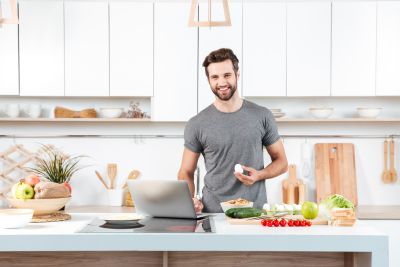 Hemp seed oil is among the latest oils that are healthy and beneficial for several diseases and conditions of the body. Just like coconut oil, its popularity has risen drastically with enthusiasts using it in several ways.
Hemp oil isn't just for adding to food or taking raw; it is an excellent medicine that provides quick relief to pain and itch.
Cooking with hemp oil is the latest trend and has shown some promising recipes with significant health effects.
As hemp is all-natural and most of these oils are provided without any chemicals or preservations, it is the best addition to vegan recipes. Make sure to look for delicious healthy hemp oil that is also good in quality to prepare some of the tastiest dishes below:
Hemp Alfredo
The hemp Alfredo recipe is not only healthy and vegan, but the yummiest thing anyone vegan or non-vegan can never taste in their life. This sauce is extra thick and rich with its inclusion of hemp seeds and cashew nuts. Here's the food wealth:
Prep Time:30 minutes
Servings: 4
Ingredients
1/2 cup raw cashews*
1/2 cup shelled hemp seeds
1/2 cup plain unsweetened almond milk*
1/4 cup nutritional yeast
1 tablespoon fresh lemon juice
2 cloves garlic, smashed and peeled
1/2-1 teaspoon sea salt (I recommend using a full teaspoon if you are not going to salt your pasta!)
Freshly ground black pepper, to taste
Small pinch of nutmeg (optional)
Instructions
Soak the cashews in warm water for at least 30 minutes to soften. Drain.
Add all ingredients to a high-powered blender and blend on high for 2 minutes until creamy and smooth.
Serve over your favorite pasta.
Hemp Oil Mustard Honey Salad Dressing
You didn't make anything if you didn't combine salad dressing with hemp oil. Hemp seed oil is the best healthy substitute for any other oil you use for salads. This recipe is the most flavorful salad dressing containing mustard, honey, and several other ingredients combined with hemp oil:
Ingredients
1/4 cup hemp oil or a blend of hemp oil and another oil
2 tbsp. apple cider vinegar
Optional: 1/2 tsp soy sauce
2 tbsp. Dijon mustard (or other mustard)
2 tbsp. honey
dash salt (to taste)
Instructions
Whisk together all ingredients until well combined.
Adjust seasonings to taste. You may prefer a bit more salt or a sweetener in your dressing, so adjust the quantities.
Hemp Oil Hummus
Hummus and hemp are the two most favorite things of today's generation, so just imagine the drama the combination of them would create. The protein-packed, vegan recipe is displayed in detailed right below:
Ingredients
250g cooked chickpeas
75g hulled hemp seeds
2 large cloves garlic
2 organic lemons juiced
¼ teaspoon organic lemon rind
6 tablespoons tahini
2 tablespoons hemp oil
4 tablespoons water
1 teaspoon salt
1 teaspoon ground coriander
Instructions
Crush garlic.
Juice lemon.
Finely grate lemon rind.
Blend all ingredients until creamy smooth with hand-blender or food processor.
Hemp Crunchy Quinoa Cookies
This recipe of cookies may be the most healthy and flavorful. It is the perfect snack if you're trying to lose weight or want some extra energy after working out. Also, a fancy breakfast choice, making 10 cookies, these hemp quinoa cookies are easy to cook up following the recipe below:
Ingredients:
1 cup cooked quinoa
¼ cup peanut butter
¼ cup date syrup (or 3 tabs alternative syrup)
A few drops stevia to taste
1 banana
¼ cup hemp protein*
¼ cup brown rice protein*
¼ hemp seeds (I use unshelled for extra crunch factor)
¼ cup cocoa powder
1 tsp vanilla bean powder or extract
Method:
Mix all the peanut butter, date syrup, banana, and stevia until smooth. Mix the dry ingredients in a separate bowl and then add to the wet ingredients until well mixed and a thick paste is formed. Mix in the quinoa until well coated.
Form small balls with your hands and press down onto a lined baking sheet.
Bake at 180C for approx. 15 mins. Allow to cool.