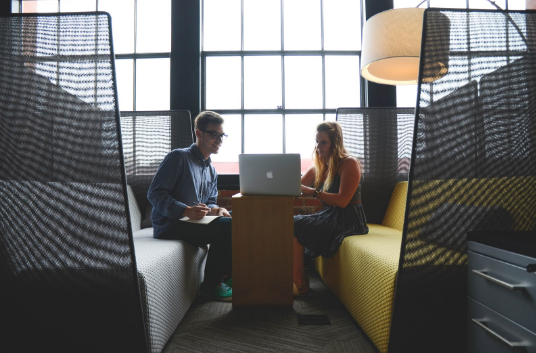 With such a considerable rise in the popularity of coworking spaces and the opportunities, they are creating for people around the world; it's hard to ignore the impact it's having on the modern world.
Worker wellbeing and freedom have never been more important, and it's vital that businesses and employees alike are taking note of what's going on, what coworking spaces are, and how they are changing the shape of the modern business landscape.
With this in mind, today we're going to explore what coworking spaces are and how they are changing things in the modern era, giving you everything you need to know to make the right decisions in your life and business.
The Rise of Coworking
Think back 50 years. Workers would sit in their business offices, usually on desks back to back with other employees, or in separate cubicles, in what many people would refer to as utilitarian spaces.
However, times have changed dramatically since then, and large, open space offices are now the norm. Everyone has an idea of what the Facebook offices are like, with their large areas, comfortable seating areas, and even wellness areas for meditating or practising yoga.
But what has made such a difference?
Nearly everybody in the modern working world will work at a desk or computer at some point in their working day, perhaps even for the last majority of it. b
But keeping people motivated and fulfilled while working in these environments is hard work, and failure to address the importance of this will leave employees feeling unsatisfied, which can lead to businesses failing.
What is a Coworking Space?
A coworking space is simply a place where people can go and work in a comfortable, casual, and satisfying environment.
This is where they can meet and communicate with other employees and can work flexibly in their own time. In traditional office environments, people would need to go into work and finish work at certain times and will be relatively glued to their desks the entire time.
In these new coworking environments, people can work whenever they like, which has been proven time and time again to increase productivity, boost motivation, makes employees more satisfied with working for their business, and overall helps to perpetuate the success of a company.
There's also been the rise of coworking apps. Not all businesses will have the opportunity to create physical coworking spaces, so instead businesses can create the same or similar benefits using apps that help bring everyone together, which have proved to be wildly successful.
The Proof of Coworking Space Benefits
In a Clutch survey which studied over 1,000 desk jobs employees, the results were clear when it comes to the benefits that these spaces provide. 61% of workers valued having a comfortable and aesthetically pleasing location to work, and 47% valued having a community ethic in their workplace where they really felt as though they were part of a team.
As we said above, these factors all contribute to having happy employees who will work harder, produce better results, and stay working for a business longer, which can only help to grow and expand businesses to new realms of success.
Summary
Whether you're reading this as an employee or a business, if you haven't yet considered the advantages that coworking spaces can bring into your lives.
There has never been a better time to do so, and the quicker you can start implementing positive changes, the sooner you'll start realising the benefits for yourself.