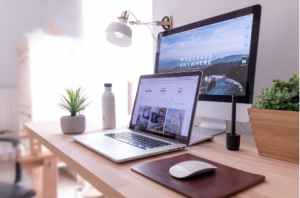 If you want to develop a brand for your company, you'll want to take the necessary steps to ensure you can connect with your clients and continue to drive your business.
Developing a brand will also make your company recognizable and help you to stand out in the industry.
If you're looking to build your company, there are a few essential steps to take to succeed.
#1 What is Branding and Why is it Important to a Company?
Branding is defined by how your clients perceive your company. Your company's brand is known as your reputation and will allow you to generate awareness about various marketing strategies and campaigns. Establishing your brand can help you create a unique and lasting impression on the market.
Your brand should be consistent in communication across all platforms, which includes your office setting, print, packaging, any content that is published, and your advertising.
Keep in mind that the process takes several months to execute to ensure it's consistent and successful.
#2 What is the Purpose Behind Your Brand?
Tell your clients why you're in business and how you can meet their needs. Define what allows you to offer your services each day.
Making an emotional impact can help you to form a connection with your clients. Keep in mind that every successful company has a powerful purpose behind it.
When developing your brand, there are four questions you should ask yourself:
Why do you exist?
What makes you different from your competitors?
Are you going to solve the problem? How?
Why should people care about your brand?
You can then use these ideas to inform the foundation of your brand through a tagline, slogans, voice, message, stories, visuals, etc.
#3 Research and Get to Know Who Your Competitors Are
Knowing who your competitors are can help you to stand out. You want to make sure you avoid modeling what they're doing, or you'll blend in with other companies. Make your company different and study how successful companies have performed well. Your brand should be easy for clients to recognize and remember with your advertising, theme, and message.
When researching your competitors, you might want to create a brand research spreadsheet where you answer these fundamental questions:
Are the competitor consistent with messaging and visual identity across channels?
What is the quality of the competitor's products or services?
Does the competitor have customer reviews or social mentions you can read about them?
In what ways does the competitor market their business, both online and offline?
These fundamental questions will help you formulate how your customers will recognize your country through your brand development.
#4 Who is Your Target Audience
Defining your target audience will make it easier to strengthen your company's effectiveness. Ask yourself who your target audience is, what their income range is, their occupations, and if they have other interests.
The key is to get specific to ensure you make an impact on potential clients.
Commit to a niche and start on something that is extremely focused. You'll have more of a competitive advantage if you can narrow down the type of customer that you want to reach.
When describing the ideal customer, focus on their age, income, educational background, gender, and location.
#5 Key Qualities and Benefits Your Brand Offers
You'll need to outline the key qualities and benefits that your brand has to offer. Your company should be offering something that no one else in the industry is selling.
Focus on your qualities and the benefits that make your business unique to ensure you can communicate why you stand out amongst your competitors.
You want to give your target audience a reason to choose your brand over another.
This means your brand needs to provide value that improves your customers' lives through the experiences they have and the outcomes of those experiences. Some examples of how your brand can do this include:
Saving time on daily tasks
More authentic and transparent customer service
Reduce costs with a more affordable option
A better way to support productivity
If you are struggling to build your brand or are looking for more ideas, you should consider hiring Crafted branding to help you build and develop your brand.
#6 Build a Story and Message
Your story will tell clients who you are with a message that is consistently associated with your crafted branding. You'll need to define these key aspects when building a story and message for your company:
Who you are
What you offer
Why people should care
Your brand story is an opportunity to communicate on a human level by making a direct emotional connection with your customers. Your brand story should be simple and clear while addressing why it's important to your customer.
For example, Dove has communicated a message of confidence to women with all body types with products that are made to help them feel better in their skin. Ultimately, it has helped women to feel more empowered and accepted.
Final Thoughts
By connecting to your customers, it can help you to grow and succeed in the industry. With the right tips followed, you can make more of an impact on developing your story and message.