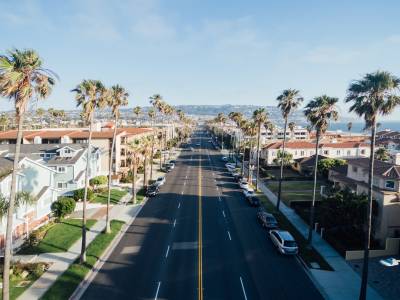 After years in the top spot and property returns as high as 50% just last year, California spots like Bay Area look set to see drops as significant as 20% in the coming year.
Investors and homeowners across the state are packing up before the real losses set in. But, if you've got your real estate wits about you, you'll do the opposite.
California hotspots like LA have been out of reach to many of us for years. Now, as fortunes change, property investment in this area is opening up.
Finally, your Hollywood dreams could come true, and your California lifestyle could ensue. Or, they could if you approached investment here in the right way.
You see, buying in a crash is a risky business. If you rush into California right now, you're asking for losses. But, by taking this slow and steady, you should find that you can make wise investments in an area that's on the down.
Instead of buying, you may want to consider renting something like one of the studio apartments in san jose california as a side option before you buy, since it is a seller's market right now and it could be a while before you find a suitable property to buy.
All you need to do is keep reading to find out how.
#1 Research location carefully
Location is everything when buying in a bust, and this is especially the case in California. As mentioned, the Bay area continually comes to rock bottom for housing right now and is set to be the nation's worst housing market of 2020.
Equally, experts predict that some California areas will flourish, though perhaps not as much as they have in recent years. For instance, a Zillow survey reveals that San Diego will continue to offer a hot housing market.
Equally, luxury Hollywood hotspots like Beachwood Canyon, are packed with celebs who are sure to keep prices high no matter what. Take this chance to get a foot into these otherwise unreachable areas right now, and the property investment Gods are sure to reward you.
#2 Keep a close eye on the market
You've bought your luxury Hollywood mansion, and you're ready to relax, but you might want to keep your defenses up a while longer.
Buying during a crash comes with a need to keep a close eye on the housing market. There's little question as to whether California will rise in the ranks again, but there are no guarantee things won't go further downhill before that happens.
Make sure this doesn't cost you by watching peaks and trends, and getting out if things do look set to crash. Equally, keeping a close eye could see you selling just as the market is on the rise again, and thus getting maximum profit from your investment.
#3 Play the long game
Last but not least, cashing in on the California crash means playing the long game. When a market crashes to this extent, you may have to wait ten or more years until you see increases up to the 50% that last year's sellers enjoyed.
If you're looking for fast returns, then look away right now. If you have the patience to wait it out, though, this crash has the potential to be the best thing that's ever happened to your bank balance.
What are you doing to cash in on the California housing crisis?