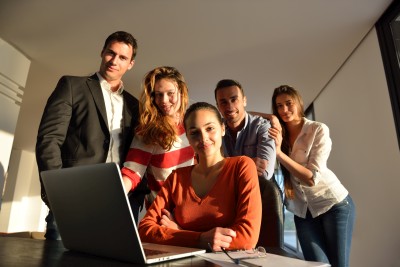 It is a fact that working in a cooperative environment increase productivity.
A business's success often depends on the ability of staff members. When employees can cooperate across projects and the routine task they can take the business success to the next level.
Team building events or activities can have a positive impact on the office environment help them to achieve their goals in the long run.
There are many team-building exercises which can boost up the energy level of workers. It helps employees to build a friendly relationship.
Team building can help your team to solve those problems which a single worker may fail to resolve.
Here are some reasons why team building events are helpful to get success in business.
#1 Work Productivity
The first benefit of team building activities is teaching people that they can work more effectively together.
It allows employees to know everyone has different approaches and skills to a problem. When people work in groups, they have more options and ways to complete a project more efficiently.
#2 Build a Friendly Environment
Have you ever noticed you work better when you have your friends with you? Having a friend at your workplace can improve the quality and productivity of your work.
You feel free and confident. On the other hand, you feel uncomfortable when you don't have good relationships with your colleagues. You may hesitate to share a problem you face in completing your assigned tasks.
Team building events can help your staff to develop better relationships and ability to cooperate well. These events allow staff members to know each other in a casual way outside the office. This also promotes in building trust between the employees.
#3 Increase Motivation
Team building events help to increase the motivational level of the employees.  It motivates the worker in several ways and encourages a successful company culture.
When staff members successfully complete a team project it increases their confidence level. They work more when they work in a friendly environment.
When a business owner plans a team-building event, it shows staff members that the company is investing in them.
#4 Work Responsibility
Team building activities give a sense of responsibility to workers. When they work in groups they know everyone has a role in contributing.
Team building teaches how efficient work can make an employee prominent and how every single contribution can take business success to the next level.
#5 Improve Engagement and Morale
When you provide a flexible platform for your works, they'll work more. No one likes to work in a stressed-out environment where everyone is being stuck behind the laptop screen. They don't get the chance to learn more not they get time to spend with their colleagues.
Such an office environment affect work productivity and creativity of employees. When you invest in team-building activities it helps staff members to know about each other.
Working in a friendly platform increases the work quality of employees rather than working in a dull environment.