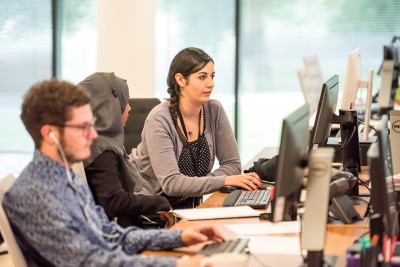 People are at the core of any business. Both its customers and employees. If you want your business to grow and evolve, then you need a motivated, hard-working and committed team that you know are willing to put the effort in.
Let's take a look at some of the ways that you can get more from your employees.
#1 Learn More About Them
Learning more about your team can be the best way to get more out of them. Firstly, get to know them on a personal level. If you understand them and their needs, you can help them.
If you know that they've got children at home, you can offer them more flexibility, which will help them to focus on the job in hand when they are at work. If you've got a good relationship, they will feel more comfortable coming to you when they need help, or when they need changes to their schedule.
But, you should also get to know how they work. Everyone is different. We all work in different ways, and we learn in different ways. We've all got different strengths and weaknesses. Get to know how your employees work, what they are good at, and what they struggle with.
Then, you will be able to delegate tasks and structure your days more effectively. You'll have a much better chance at creating a team that compliments each other, and that works well together. An employee engagement survey communication is a great way to find out more about performance and their needs.
#2 Hold Appraisals
Appraisals are another way to get to know your team. But, they are also a great way to set targets, highlight issues, praise successes and gain opinion.
Spend some one on one time with each member of your team. Setting goals help them to stay on target, and appraisals give you both a chance to catch up.
You can't expect them to give you more if you don't take the time to provide them with clear and concise expectations and actionable targets.
#3 Lead by Example
If you want to get more from your team, you need to give them more. They need to see you working hard, and they need to know that when times are tough, you won't just sit in the office judging them, you'll get stuck in on the floor.
Employees respect a manager that works hard. They are willing to go the extra mile for someone that is willing to help them, even if it means getting messy.
It's your business, after all, you can't expect them to give it their all if they don't know that you would do the same.
#4 Make Some Changes to Your Working Day
If things don't seem to be going well, ask yourself why. Are your staff tired? Could working shorter days help? Do they flag in the afternoon?
Would have shorter lunch breaks, and several small breaks spaced out throughout the day help to keep them going? Could you start and finish earlier?
Are they wasting time on pointless or overcomplicated tasks? Could it be worth streamlining some processes?
#5 Give Them the Tools That They Need
You can't expect your employees to do their job well if you aren't willing to give them the tools that they need to do so.
Look at office upgrades, ask them what materials and supplies they need, and never let the essentials run out. It might be their job to get the work done, but it's your job to make sure they can.