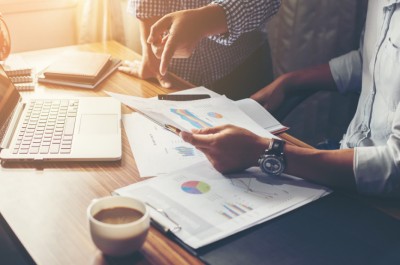 The number of investment advisors in the Investment Advisor Registration Depository (IRAD) Database grew to 10,484 in 2006 and continues to grow annually.
As a financial advisor, your role is to provide sound advice on investments, mortgages, insurance, savings, taxes, and estate planning to your clients. You help your clients plan and manage their finances and prepare for retirement.
Your advisory services enhance your relationship with your clients. Assets management for private investors is a lucrative job and many firms get paid really well for their services.
Tired of being employed as a financial advisor? Why not go solo? Here's a guide on how to become an independent financial advisor and make money on your terms.
1. Making the Move
On your career path, the move to an independent advisor from the comfort of a well-paying job at a big firm can be risky and unpredictable. You'll require ample time to plan your exit and patience to withstand the risks.
This transition will help you build your business. Building your clientele requires competence and industry experience.
2. Know Your Relationships
Before leaving your firm, it's important to evaluate your client relationship. You need to make sure that your clients are satisfied with your work. In essence, most investors work with people they feel understand and know them well.
If your relationships are strong you are likely not to start from scratch when you venture into your solo career as they will follow you for your services.
3. Plan Your Finances as You Strategize How to Become an Independent Financial Advisor
As with every startup business, capital is important to kick start your career as an independent consultant. Your revenue streams may be limited in the first couple of months.
You can use your savings or get a loan which will support your business before you break even with your income.
4. Market Your Services
You will need to find the right people in the right places. Building your clientele requires that you engage potential clients in the sports clubs, philanthropy activities, or rotary clubs. Let the people know who you are and what you can do for them.
You can engage Adobe Spark's logo maker to help you develop a brand identity that clients can easily recognize and know what you offer.
5. Partner with Others
You may want to join an independent advisory firm in case you feel the independence may be risky. Foster collaboration with other advisors.
In cases where clients require more than you can handle as an individual, it's important to either outsource the service or collaborate. Bottom-line is customer satisfaction.
Financial Advisory Services Are All About Relationships
Now that you know how to become an independent financial advisor, build on the relationships. Your clients are likely to refer their friends if they feel that you are looking out for them and their families.
As an independent contractor, you will need to go over and beyond so that you retain your clients. Ensure you declare your independence and get all the required licensees to operate your firm.
If you enjoyed reading this article, browse the rest of our blog for
more useful information.
Are you thinking about becoming a financial advisor?