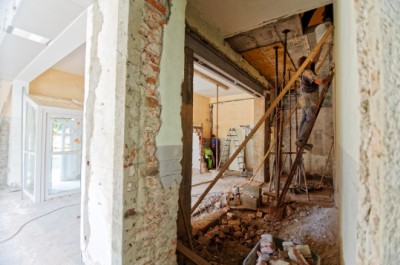 Whether you've just moved into a new home or you've been living where you are for years, home renovations are just all of your home's incredible journey.
Whilst you may find that you're happy with your home the way it is, for some, changing things up every now and again helps them continue to love the place they're in. After all, a little bit of change never hurt anyone, right?
If you're thinking of renovation aspects of your home, here are 5 top tips to get you started:
Make Sure You're Setting A Budget Beforehand
One of the best ways to ensure you're home improvements are going as well as they can possibly go, it to make sure you're setting a budget beforehand.
One of the most stressful parts of making home improvements is knowing whether or not you're going to go over budget, so having a clear idea of everything you need to spend and when will help prevent any money worries.
For tips and tricks on setting a budget, you can visit this guide here.
Speak To A Professional Before You Make Any Big Changes
If you're going to be making any changes that will affect your home in a major way, you may want to speak to a professional first.
They will be able to advise you of what is actually possible, and whether you're at risk of ruining any of your homes essential amenities with the changes you make.
When it comes to electricals and piping, it's always best to get a professional opinion before you risk breaking something important.
Be Realistic About Your Goals And Designs
Although you may have seen some incredible designs on Instagram and Pinterest, you need to be realistic about what you're able to replicate in your own home.
Whilst most things will be possible, you may find that there are one or two things you need to rethink as your home may not have the capacity for it.
Whether it's the walk-in wardrobe or bay windows, try to be as realistic as you possibly can.
Research Materials And Equipment
One of the most important things you can do when renovating your home is put as much effort as you can into researching materials and equipment.
If you're going to be carrying out a lot of the renovations yourselves, you need to know absolutely everything you need. Whether that means finding mini diggers for sale or going out and buying wallpaper, planning in advance will help speed things up.
If You Need Help, Know That It Is Worth The Extra Money
Although you may want to save money by doing as much as you possibly can yourselves, don't be afraid to admit when you need help.
Some aspects of DIY can be incredibly tricky and if you don't have the skills, it's much better to put some money behind having someone with experience come and do it for you. For a guide on hiring contractors, you can visit this site here.
Are you thinking of renovating your home soon? What do you need to think about beforehand? How can you ensure it is as seamless as possible? Let me know in the comments section below.