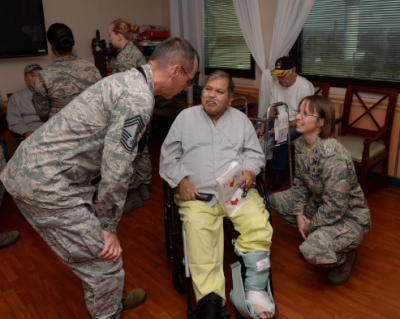 People who serve in the Armed Forces have risked their lives to serve the country, and they deserve respect and proper treatment after their service.
Unfortunately, some of them have struggled to get back to their normal lives, most especially in terms of financial security. Let's take a look at how some veterans become drowned in debt, and what they can do to rise up from their financial conundrum.
Returning to civilian life isn't easy for military vets, and part of the reason is the ever-changing economic landscape. The financial conditions before they went on active duty may be a whole lot different when they go back home, leading many of them on a debt spiral.
In fact, a 2017 survey revealed that 92.5 percent of the respondents – a mixture of active-duty personnel and veterans – had some form of debt.
Financial Tips for Veterans in Debt
The good news is that it's not too late for financially struggling vets to get back on their feet. Here are some strategies for veterans to improve their financial profiles amidst being in debt:
#1 Look for an on-base finance management helpdesk
The government knows the struggles that military personnel endure, even including their economic conditions. Because of this, practically all military bases have some form of personal finance consultation or money management program to help address common money-related issues.
Military members may approach these offices or employees so that they can ask financial questions and be guided in improving their debt situation.
#2 Find options for special financial packages for veterans
Some interested parties and organizations seek to lend financial assistance to people who have gone through active duty and are looking to return to their regular lives. Some private companies offer a VA jumbo loan to relieve the vets of having their debts ballooning due to interest.
Other groups, on the other hand, can pay off a vet's debt so that all they need to worry about is a fresh monthly payment that is significantly lower than what their original debt is asking them to shell out.
#3 Get educated in financial management
It's never too late to learn about how to handle finances wisely, even if a person has served in the military for years. What's great these days is that a ton of resources is available online to study up on personal financial management, effective investment, and debt & loan handling.
Many of these kinds of programs are available through the U.S. Department of Veterans Affairs or the Federal Deposit Insurance Corporation.
#4 Have your financial profile assessed by an expert
Not everyone knows how bad their financial standing is, and so having it checked by a financial planner or consultant can help you determine your current status and your potential options. Ask about your debt-to-income ratio, as well as other financial identifiers that show your real condition.
#5 Stay away from more debt
As a final but highly important note, do not make another loan or get into debt ever again. As long as your debt is still unpaid, steer clear of big purchases or new property loan applications.
Best of all, work within a particular budget for your daily needs. It's a good practice to write down your upcoming financial commitments as well as your actual expenses. By putting them into writing, you can immediately see whether your finances are improving or going further downhill.
While it's sad to think that some people who risked their lives for the general public are now wallowing in financial trouble, there's still hope for them. By following the tips above, any veteran can rise up from debt and have a new lease in financial freedom.  Finally, if you are looking to join the military you can look into recruiting services like this one to get started.
What tip can you give to vets to save money and pay off debt?