Are you looking for an easy way to get started on the bankruptcy process but don't know where and how to get started.  In this article I am going to show you how to file bankruptcy online with a well known company called Legal Zoom.
Getting Started
Getting started with your online bankruptcy filing is actually very simple and with Legal Zoom they make it very easy to get up and running.  Now I should mention before you get started that you should also know just because you are going to file for bankruptcy online does not mean you will automatically be accepted.
To be fully excepted, a bankruptcy attorney will have to review your situation and qualify you.  The great thing about Legal Zoom is that they work with qualified attorneys all over the country and even in your area, and the best part is they will do it all for one flat fee through Legal Zoom.
Check The Pricing
The next thing you will have to do is check the pricing in your state.  To do this go to legalzoom.com and scroll down the left side and look for the bankruptcy link.  This will direct you to the bankruptcy page.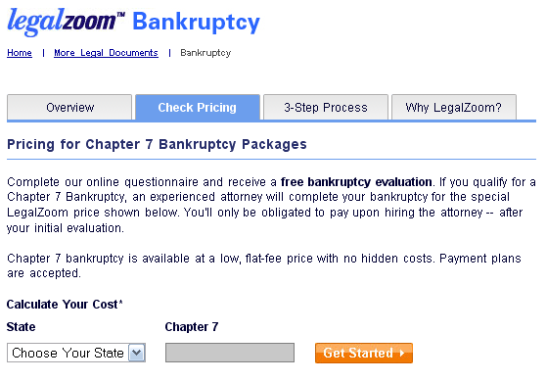 Next click on the check pricing tab.  In this section you will be able to see what kind of fees you will have to pay in order to file bankruptcy in your current state.  For example in the state of Ohio it will run you around $1400.
Now this does not include court filing fees which will run you another $299 for a chapter 7 bankruptcy.  However this is very reasonable since filing in some states with the traditional method can be very expensive.  If you decide instead to file for a chapter 13 bankruptcy you can as well but the fees may vary.
Complete The 3 Step Process
Once you have agreed on the price you will be able to get started by creating an account and filling out an online questionnaire.   This questionnaire will be a starting point for your attorney to help them understand you situation.
This questionnaire will contain various questions about your current financial situation and what kind of assets you have.  Once all the questions have been answered a meeting will be set up between you and your professional attorney.  The initial consultation will be free of charge.
Finally, if you qualify and you authorize your attorney to start they prepare the necessary documents as needed.  After the bankruptcy filing is finished you will receive a notice of discharge to complete the process.
A Final Thought…
The process of filing bankruptcy online is very simple but you should know it will take anywhere from three to six months to complete the entire process itself.  If you would like to learn more about how the bankruptcy process works you can check out Legal Zoom here.