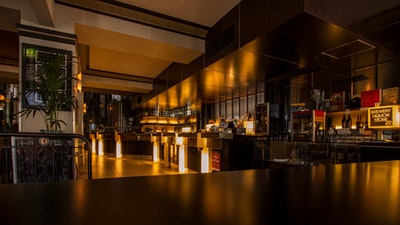 Restaurant businesses can blow hot or cold very easily. Some are a massive success, while others are doomed to fail almost from the beginning.
The problem loads of new business owners have is that they can't manage the overhead costs involved in running a restaurant. You've got the premises to pay for, staff, equipment, materials, food suppliers, and so on.
For many, it's a constant struggle of making a decent amount of money, but spending way too much to make a profit overall. As such, here are a few genius ways any of the restaurant owners reading this can save money and lower overhead costs.
#1 Give The Customers More Responsibility
This is something you see in a lot of modern restaurants. The idea is that your customers don't depend on waiters as much as they would in a traditional restaurant. It's almost like a bar, they pick what they want on a menu, and go up and order it.
Then, the staff takes their meals to them, but the customers can just clear their stuff away or put it at a designated station. There are plenty of genius ways you can make your customer more independent too.
Loads of restaurants use things like the Lift Works Dumbwaiter Services to cut down on the amount of staff they need.
They have little mini lifts in their restaurant where customers can just load up dirty dishes, and then they get taken down to the kitchen where they can be cleaned right away. Self-service machines are also being rolled out in a lot of places too.
The whole benefit of ideas like this is that you don't need to hire as much staff. Even if you cut your staff by two or three people, the savings over a year will be astronomical.
#2 Supply Your Own Produce
Another smart idea is to supply your restaurant with fresh produce by yourself. You can set up a vegetable patch at home, or buy an allotment somewhere, and just grow fresh fruit and vegetables.
The benefit of this is that you have an almost endless supply of produce, and it's all fresh, organic, and comes from you. So, you can use this as a marketing strategy too.
Customers will know they're eating fresh stuff that's not been shipped all over the country from goodness knows where. The amount of money you spend on food supplies will be slashed to pieces.
#3 Sublease Your Kitchen Area
Lastly, you can save money on your overheads by being clever and renting out your kitchen to other businesses. Some catering companies are looking for places to cook, and will gladly rent your kitchen out if they need it.
Then, you have pop-up restaurants looking for somewhere to come alive for a short period, and many other people out there looking to rent a kitchen – perhaps someone running a cooking school that needs somewhere to teach their students?
Regardless, you can rent your kitchen out when you don't use it, and use that money to pay your overall rent, reducing how much your business suffers.
Try any (or all) of these ideas in your restaurant, and watch the savings start almost immediately. Now, it should be easier to make a profit and survive!
So what are you doing to lower overhead for your restaurant?  Share your thoughts and comments below.
Cheers!