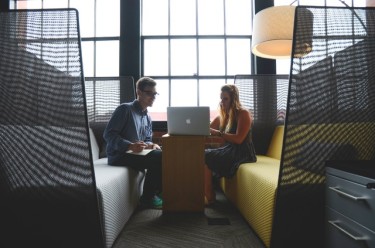 Being in the IT field puts you in a position that you know a lot about the latest technology and software, and you need to be able to prove your knowledge and competence in any situation.
You may find yourself in a job interview, whether as interviewee or interviewer, and have an opportunity to prove your skills by acing a video conference meeting.
On the other hand, if you're in a larger IT department, impressing the boss or a client is as simple as showing you know how to use all the tools at your disposal to collaborate effectively and bring out the best results possible.
Here are a few simple ways to prove your expertise as an IT professional.
#1 Choose a Dependable Conferencing Device
One bottom line of being a leader in the IT world is knowing how to actually choose and use the communication tools on the market to further the efficiency of your role within a business.
Video conferencing is currently a standard form of everyday communication in the business world, especially since it's mobile. If you're going to conference from a smartphone or mobile device, you need to know what it is in advance.
Blue Jeans camera for video conferencing for IT allow participants to join a video conference call from any device, which means you have an opportunity to communicate like a pro.
Make sure you know your camera angles and how your device will work on the system.  I've personally dealt with these situations before and whether you're dealing with someone on the C team or someone in marketing getting the right camera and sound is critical to keeping things running smoothly.
#2 The Job Interview on Both Ends
CIO specifies that today, IT professionals need to be prepared in more programming languages than ever before and with as much savvy about different types of equipment as possible.
Understanding the difference between interviewing for a job in the IT sector in 2016 versus 2006 is absolutely essential to your success, both as a candidate, but also as a hiring manager for an IT department.
The biggest change in the IT field and knowledge required to land a good, well paid position is how much knowledge you actually need, and how much technology platforms have diversified.
Therefore, the best place to start as a way of showing your expertise, or to test someone else's, is to conduct an interview via video conference.
Not only does this give the candidate an opportunity to prove that they're comfortable and tech savvy with the latest communication tools, but is also an easier way in general to conduct the hiring process.
The bottom line is that of all industries where video interviews might be useful, IT is at the top of the list.
#3 Use Tech to Its Fullest Potential
This is a deceptively simple tip, but by all means use video conferencing for more than just meetings if you're in the IT industry.
Being at the forefront of what's new and interesting in the tech world means you also need to learn how to fully utilize the potential of what's on the market, and that includes video conferencing.
Extend your use of video conferencing to include collaboration and brainstorming amongst your team. Just because you're in the technology field means that creativity isn't as important to you as it is to arts professionals.
It's all about innovation. By using technology for more than just the very basics of communication, you set yourself apart from your peers as a leader.
#4 Share a Policy You've Written
Computer Weekly describes in detail how a video conferencing policy to ensure IT security should be laid out, and it's a complicated process involving how to post signage, what kind of network precautions need to be taken, and who's in charge of particular types of data security.
While knowing how to trouble shoot, implement, and fix tech problems within a workplace is absolutely essential, to stand out as an IT pro you need to go above and beyond that.
Documentation is just as important to an employer as an employee's ability to perform his or her job, if not even more so since it ensures stability in the future.
Being able to compose and finalize documentation about a video conferencing policy and how to keep an employer's data both safe and accessible is something particularly impressive to put on your resume.
It demonstrates foresight, a commitment to thorough data protection, and shows your ability to do more than the basic day to day functions of your job.
In the End…
Being an IT professional who stands out and goes above and beyond expectations is all about knowledge, and knowing how to effectively utilize that knowledge to achieve bigger and better things than you've been tasked with.
Not only that, but using communication tools like video conferencing to effectively elevate your performance as well as your colleagues' performances sets you apart as a true leader in the field.