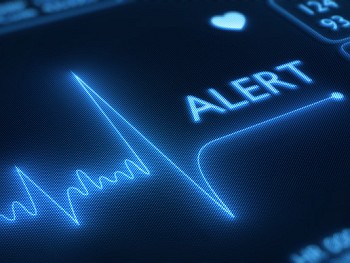 Finally the Golden years!  After 35 years of working, worrying, running around and stressing out, we can retire and finally enjoy freedom and peace.
Unfortunately, retirement can also bring on arthritis, poor vision, heart problems circulation issues and simply an increased amount of mysterious aches and pains.
Choosing to use a medical alert system, like the ones found at Fallalert.com and Pioneer, can surprisingly improve quality of life in a variety of different ways.
This fairly simple device costs about $1 a day, and is the best possible investment we and our families can make to provide a great quality of life as we grow older.
What is a medical alert device?
A wireless medical device is one component of an alert system. The device usually looks like a pendant or a bracelet, and can be worn as attachment on a hip. The small tool is designed with a large button that we can press in case of emergency.
The press of a button sends a wireless signal to a console in your home, which is programmed to call an emergency service or a family member. What is most important is that there is someone, either a service, friend, or a family member, who is monitoring the device 24/7.
Medical devices have improved with time and technology.  Some are now equipped with a GPS locator, an automatic fall sensor, and can be programmed to alert us when we need to take our daily pills.
With the development of more advanced wearable systems, it is just a matter of time before they will be connected with our pulse, heart monitor, temperature, and other vital information.
Seven Reasons For Getting A Medical Alert Device
1. It allows us to stay independent.
If you are healthy and active in your old age, you want to stay that way. Enjoying your independence and living in your own home provides a freedom that is priceless. Yes health issues, falls and injuries are more likely when you get older, but that doesn't have to mean that you need someone to be in the same room as you around the clock.
2. Our families worry less.
Many mature adults live alone and, having spent years caring for others, it can actually be a pleasure. For our children and families though, the idea of us having no one to share our homes with can cause worry. Even if the medical alert device is never activated, it can spare them many sleepless nights as they wrestle with their own fears.
3. Our chances of a heart attack survival are much better.
There's no denying that our chances of a heart attack increase as we grow old. However, according to the National Heart, Lung and Blood Institute, the sooner we get help, the better our chances are of surviving it. Medical alert device may be able to provide help faster than a 911 call, especially if we're unable to reach the phone.
4. It can reduce anxiety.
Whether we like it or not, the older we get, the more we worry that something will go wrong and we will not be able to get help. Knowing that an alert system can bring help at the press of a button takes the anxiety away and allows for a worry-free life.
5. No more fear of falling.
The CDC states that one in three adults 65 and older falls at least once a year. Moreover, there were 2.3 million seniors who required emergency room treatment in 2010, and about 662,000 needed hospitalization. While the felt impact itself can be somewhat scary, the potential aftermath of being unable to help yourself can be extremely nerve-wracking.
Some contemporary medical alert devices have built-in automatic fall detection sensor, which alerts monitoring company and/or a family member about the fall. This kind of device not only brings quick help, but removes the fear of not being able to receive aid, a possibility that can be so debilitating that some people inhibit their movement and further diminish their physical and emotional health.
6.  It empowers us to safely leave the home.
One of the sad facts of ageing is the increased risk of dementia, particularly Alzheimer's disease.  As the disease progresses, people get disoriented and frequently get lost. Modern medical alert devices have built-in GPS locators, enabling help to find a person anywhere within the range of the device.
Having a GPS as part of our device is important for many reasons, besides being lost. If we lead active lifestyle, our chances of falling or getting hurt while hiking or fishing increase. With the GPS, the help can find us with complete accuracy in the shortest amount of time.
7. It provides an affordable alternative to residential communities.
We know that our families worry about us and would prefer that we live in a community that can assist if we are in trouble. While they would feel much better if we moved from our homes to some assisted living institution, the fact is that they are very expensive and the better ones are often unaffordable.
The cost depends on the level of care, but averages ranges between $3,300 and $6,753 per month. On the other hand, the average cost of a medical alert device is about $1 a day or about $30 per month.
Your health and emotional wellbeing is worth investing in. By being proactive in your health with preventative actions, you can do your part to enjoy many healthy days for years to come.
Have you ever considered a medical alert device for you or someone you know?