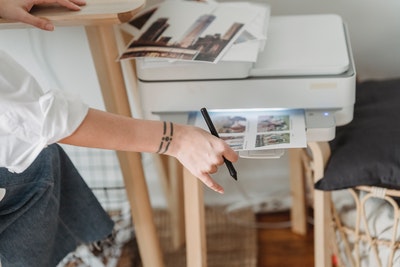 Like many tech gadgets, we utilize today. The best printer choice is unique based on individual or company preference.
From high-speed machines to simplified ones. The market today has many printer options available.
So, as you shop around for a good printer, the process can overwhelm you.
The best thing you can do is prioritize the features that you feel will have a big impact on satisfying your needs in the long term.
In this article, we strive to share those attributes to help you decide on the best printer for your line of work.
Before we start, let's first assess some key scenarios that can help you establish the right printer for your circumstances.
The different uses for printers
Enterprise
In a growing organization, the need for administrative features and efficient workflow is important. In this regard, individualized printing systems might have to do several tasks for one office.
Malfunction and administrative attributes include color printing, scanning, faxing, and photocopying. For this reason, most businesses prefer enterprise printers to achieve fluidity when doing work on a large scale.
Home
For several families, a home printer can fast become a busy hot spot. Printers with low noise characteristics help to cut down on distraction when bigger school projects are being printed.
In contrast, printers that are multifunctional help to take care of medical records, travel documents, family photo's and so on. Households with fewer people may need a printer with fewer features.
But this does not mean that multifunctional printers cost less compared to printers with a single function.
Home office
As more and more experts work remotely. The standard home office printer experiences a lot of pressure.
Many work-from-home environments need to strike a balance between paper volume and printer speed.
Additionally, by buying a multifunctional printer you'll be able to dramatically limit the trips you take to the print shop.
What to focus on when shopping around for a printer
Print speed
Print speed is a standard feature on every printer. It's usually measured in pages per minute (ppm). All printers have different variations of print speed. For instance, smaller printers are engineered to print low-volume work.
Print speed may be 5 ppm depending on how you set it. Contrary, enterprise printers can yield 70 ppm or even more regardless of the format.
Black & white or color
Most printers have varying print speeds for color when compared to white and black prints. Printers that render work in color usually take longer to print. While back and white prints with black text and white space are often easier and faster to print.
Printing in color is more complicated. This issue applies in particular to photos and images. The good news is, this change is often a small ppm difference. And as technology advances.
This distinction is becoming smaller as new print types get develop.
Summary
The process of looking for the right printer for your work is different for everyone. If for instance, you do a lot of printing, a laser printer will be more suitable for use in your office or home.
But if you happen to be working from home and print photo's occasionally, an inkjet printer is your best bet.
As you have many options to choose from, together with varied prices. It has become easier to find the best printer for your work and personal needs.