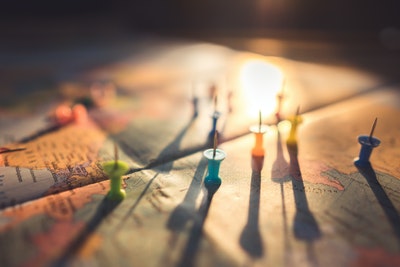 With COVID19 shaking up the property market, some bargains can be found, both onshore and off.
If you're looking to diversify your investment portfolio, then the overseas property may be a good option.
It's essential to have a solid understanding of the benefits and risks before moving forward with any investment opportunity.
Benefits of overseas property investment
With a volatile market causing property prices across the globe to plummet, there is a good chance that you will find some attractive entrance points overseas. For example, there are a plethora of houses cheaper than 3M available online right now. The lending criteria are also often favorable, with a lower deposit required and more lenient lending criteria on offer.
Both the purchase and ongoing returns can also take advantage of the exchange rate, given that these will likely be in a different currency. Property is one of the safer investment options; historically, it shows strong growth over time and offers rental returns. It is also tangible in the sense that you are not paying for paper value – it is bricks and mortar. This can act as a form of protection against inflation for your finances.
Property often attracts benefits at tax time. Funds spent on maintenance and upkeep are tax-deductible, and depreciation is likely to help you lower your taxable income.
If you're looking to make the move to another country, property ownership can often help you with gaining a visa. Some countries allow property ownership as a qualifying factor for residency in the country. This is something worth considering if you're serious about your relocation.
Risks associated with overseas property investment
Ensuring you are aware of the tenancy and rental laws in the country you are considering investing in is a must. You don't want to run into issues down the track with tenants because you did not do your homework – don't assume that the laws protecting landlords and tenants in your own country are universal.
Exchange rates and hidden fees and charges may make international property investing pricier than initially anticipated. Exchange rates, in particular, will play a big part in determining the profitability of your investment.
While this is something that can be to your advantage when the rates are in your favor, it is also a risk when they are not. It is crucial to ensure that you can financially weather the storm should exchange rates become volatile during your investment period.
The practical issues that can come with investing at a distance may make the overseas property market challenging. From property management, maintenance and repair, to tenants – locating the right people for your property can be difficult when you are on the other side of the globe.
Similarly, as an overseas investor, you are unlikely to have the insider knowledge that a local would have regarding the area. This may mean that your ability to make an educated decision regarding your investment is hindered.
Research, research, research
Your undertaking research can somewhat mitigate the majority of these risks in the area you are looking to invest in.
Taking an in-depth look at the housing market, economic growth, and property and rental performance is a great place to start when attempting to identify a strong investment opportunity.  If you're looking to buy property overseas this article at simonconn.com is very helpful.
Exploring tax implications, local laws, and government regulations can also put you on the front foot when it comes to understanding how you, as a landlord, are able to operate in your chosen location.
Crowdfunding property investment
With rising property prices and government restrictions taking property investment off the list for many individuals, there has been an increase in the number of crowdfunding investment options. These platforms allow investors to buy into the property in a similar way to that in which they would purchase shares on the stock market.
Individuals can decide how much or how little they would like to invest in any given property on the platform and are then able to receive the percentage of return applicable to their level of investment.
This allows investors to diversify their portfolios without having to increase capital.
Other investment options
Not keen on residential property overseas? There is a multitude of commercial options available, with one of the most affordable being hotel room investments. The concept is simple; you purchase shares in the hotel, with a certain number of shares being the equivalent of purchasing a full hotel room (you can purchase less if you wish).
You then receive the return on any revenue from the room, as well as any profit made when you come to sell. A side bonus is a fact that you are often able to holiday for free for a few nights per year, depending on the size of your investment.
As with all investments, there are risks, and it is essential to really do some homework before launching yourself into a hotel crowdfunding project. The company's financial performance over the last few years needs to be considered, as does the tourism industry in the area.
The verdict
We can see that owning a property on the other side of the world certainly presents its challenges. There are increased risk factors associated with overseas investments that are not there when you choose to remain in your local market.
Exchange rates and local laws may significantly impact your ability to profit from returns on your investment, not to mention the practical issues associated with managing the property from such a distance.
Having said this, the emergence of platforms allowing overseas property investment with reduced risks is emerging. Crowdfunding platforms that are making the housing market accessible with less capital are on the rise.
Of course, as with any investment opportunity, these come with their own set of risk factors, but it may be that the potential benefits outweigh these risks, to make them more of an appealing option, particularly for those new to the housing arena.