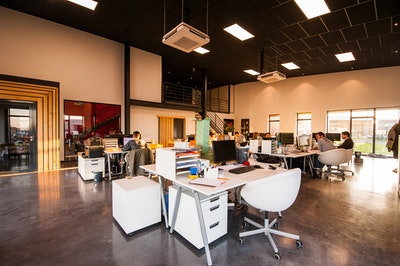 With the right workspace, you'll achieve higher levels of productivity from your staff.
From your office desks to the exterior of your building, you'll want to create the right brand image for your company.
To help you improve the design of your business premises, try these five tips.
#1 Ergonomic Workstations
To improve the design of your premises, you should ensure that all workstations are ergonomic. You can achieve this in the following ways:
Purchase ergonomic chairs: ergonomic chairs are designed to be easily adjustable. These chairs offer maximum support for the spine and help keep employees safe from injury.
Adjust computers: computers should be positioned so that the top of the monitor is at eye level.
Ergonomic keyboards: these keyboards can ensure that injuries do not occur from typing (due to straining of the arms or wrists).
#2 Use The Right Colors
Plain and simple, dull, and worn out colors do nothing for workplace morale. To give your employees a productivity boost, decorate in colors that create the right atmosphere.
Try painting with yellow, green, or bright blue; all of these colors are associated with boosting creativity. Some companies prefer to decorate using the same colors as their brand, it's a great way to create a professional image.
When clients visit your premise you'll want to impress them, not put them off!
#3 An Eco-Friendly Space
Studies have shown that improved air quality and natural light help staff perform better; with this in mind, ensure that you design an eco-friendly space.
Use plants to decorate and install eco-friendly appliances and devices. A few options include energy-saving computers, LED bulbs, eco-kettles, water-saving taps, or solar-powered chargers. With an eco-friendly business premise, you'll boost productivity and reduce your carbon footprint.
These days customers prefer brands who are doing their bit to protect the planet.
#4 Boost Your Curb Appeal
You might not think that outside of your business premises matters all that much, but in fact, it's quite the opposite! A shabby and neglected exterior building will compromise your brand image. The best thing to do is to give everything a revamp. From your a
asphalt paving to your workplace sign and your exterior walls, ensure that everything looks new, professional, and inviting.
#5 Use Design Apps
Need a little more help to create the right business space? Why not try a design app. A few popular options include:
Planner 5D: Planner 5D is a top floor plan design tool; users can design any interior layout they choose using either 2D or 3D. With this app, you can create photorealistic plans, and adapt the texture and lighting.
RoomSketcher: The RoomSketcher App is another excellent floor planning application; it's a handy tool whether you are redesigning an office or a home. Using the app, you can create 3D plans and visualize the ideal layout for your business.
When you are redesigning your business premise remember to consider social distancing restrictions. Adhering to the correct COVID-19 procedures will help you to protect your business.