Last week I got an Lifelock alert sent to my email account claiming that someone had change my mailing address to someone else's address. When I read this email my heart literally skipped a beat and I demanded answers right away.
At this point I hopped on my Lifelock account and signed in to get more information and this is the alert that I got.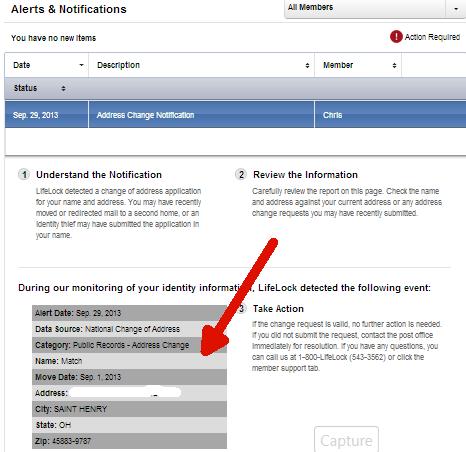 Once I read through the alert from Lifelock I noticed that whoever changed my address was from the same small town that I lived in, which was kind of weird.  Then I noticed that this person lived on the same street that my brother lived on.
So I called my brother and ask him, since he had recently moved into his new house, if he had recently changed his address at the post office?  In confusion he asked me why and I simply asked him what his new address was.
In the end it was only a mix up at the post office due to the  fact that the post office had mixed up our addresses.
Why This Is A Big Deal
This is exactly one of the reasons I have Lifelock.  I know a lot of people like to say identity theft protection isn't worth it because credit cards have protection built into them, and that they can monitor their own credit report and spot issues but there's so much more to it.
Without Lifelock I would have never known that my address had been changed and had this been a real identity thief it would have taken weeks before I figured out what actually happened.
In that time these scammers could have opened up new credit cards in my name, taken out payday loans, and who knows what else.  The situation could have ended really bad and I could have been hung with it all.
So what are your thoughts, have you ever considered an identity theft protection program, or do you think it's a waste of money?
If you would like to try Lifelock out now for a limited time you can get Lifelock FREE for 30 Days Plus a 10% discount till the end of October.