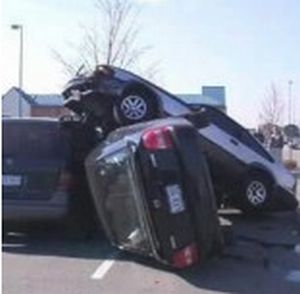 Did you know that auto insurance fraud cost the insurance industry about $30 billion a year? While most law-abiding citizens would never dream of committing fraud or felony, there are other elements of society that make their living off of deliberately scamming people. Here's what you need to know so that you don't get involved in auto insurance fraud, either intentionally or accidently.
First, let's understand the two types of auto insurance fraud.
Hard Fraud occurs when a perpetrator stages a scenario like a collision, theft or personal injury so as to lay claims for compensation from an insurance company. It could include a ring of conspirators who play out a scenario to dupe unsuspecting victims and insurance company investigators. Sometimes, doctors, lawyers and insurance agents play an active role in these fake accidents.
Soft Fraud or opportunistic fraud occurs when a perpetrator exaggerates or lies about an event in order to claim compensation. For instance, a person with insurance may exaggerate the damages to his car after an accident in order to claim a bigger compensation than is actually due to him. Or a person applying for auto insurance may misrepresent information so as to get lower premium rates. Soft frauds are the most common type of fraud, but it's not always intentionally. Some people accidently provide wrong information.
Common reasons for auto insurance frauds – it's easier done than you think!
Providing inaccurate information while signing up for a policy because you forgot the specific details. If you can't remember whether you've got any parking or speed tickets, go through your records before you answer these questions. Remember, ignorance is no excuse!
Providing inaccurate information about past insurance claims, damages, and accidents.  For instance, some people deliberately give an inaccurate estimate of their daily mileage just to get cheaper auto insurance quotes.
Not collecting enough evidence on the spot, after an accident. Take pictures and write down any details that will help support your insurance claim. It's important to get your facts straight.
Listening to "good" advice even from close friends who may tell you to fudge information so as to get cheap auto insurance quotes. Be wise – these intentional "exclusions" may come back to bite you later.
How to avoid being caught in an auto insurance fraud
Watch out for organized fraud rings trying to lure you into a paper accident or a staged accident scenario. There are techniques such as the T-Bone, Sideswipe, Wave and Swoop & Squat employed by organized fraud rings. Make sure you are aware of these and be on the alert. Those who stage such crimes will try to bleed you out for all the insurance claims they can get. Remember, some may even have doctors and lawyers in their scam ring!
It may seem tempting to get more out of a legitimate accident from your auto insurance company by exaggerating the damages, especially when you consider all the premiums you have already paid your insurance company.  But don't give in to temptation! Some have reported fake hit and runs or laid claims to non-existing damages and later have had to face the consequences. It may seem like a fool-proof idea but think through it before you actually do it.
Collect as much hard evidence as you can after an accident. Write down notes so you don't forget, take pictures, videos on your cell phone. This will help you confidently put your case forward to the auto insurance company. 
Consequences of auto insurance frauds
Denial of Claim. If you provide incorrect and/or insufficient information to the auto insurance company at the time of claiming compensation after an accident, your insurance claim may be denied and you would have to bear the entire loss on your own.
Cancellation of Policy – Your auto insurance company can cancel your policy if they find you have misrepresented information on past claims, accidents, speeding records etc. This would force you to find another car insurance company and face obscene premium rates.
A Misdemeanor Conviction is the worst possible consequence of a soft fraud accusation. The conviction details vary across different states, though in severe cases it may go up to five years of imprisonment or a fine of $ 15,000. Generally, cases of accidental fraud do not lead to convictions but you should always be careful. Make sure you manage your policy well and don't provide incorrect information.
Now that you've read about the details of auto insurance fraud and how easy it is to accidentally cross the line, this should serve as a wakeup call – keep your eyes open and alert to the possibility of you being duped by a scamming operation. Check your auto insurance policy to make sure everything is in order. Don't think that this could never happen to you. Fraudulent claims are not only affecting insurance companies, but innocent lives as well. Don't be their next victim!
About The Author:
Bethany Collins is a mother of two kids and lives with her husband. She loves travelling and writing. Her interest lies in reading finance related books, articles and blogs. She has continued writing since last 10 years on topics like auto insurance, Classic car insurance and several car insurance related topics.
This article was recently featured in the Carnival of Personal Finance by My Personal Finance Journey.