Last Updated: January 26, 2013
Before You Submit A Request To Guest Post Here Please Read This Entire Article As Their Are Specific Instructions You Must Follow In Order To Get Your Post Accepted.
Are you looking for an opportunity to write a guest post? Here at Stumble Forward we are looking for those that would like to write informative, unique, and original content for our site centered around a broad array of financial topics from insurance, investing, debt relief to consumer advice. Here are just a few benefits you will get.
Benefits
Build Traffic To Your Site. Stumble Forward brings in more than 8000 visitors a month and counting.  In fact nearly 90% of those visitors come directly from search engines like Google, Yahoo, and Bing.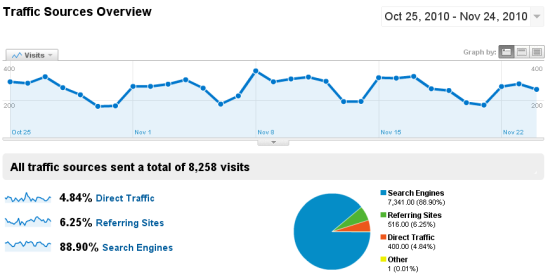 Add A Link. When you write an article at Stumble Forward you're allowed to add one link to your page.  You can use any anchor text you wish, linking back to any page in your site, and the link will be a followed link.  Doing this will add value to your site helping you rank better in the search engines, and drive more traffic back to your site.
Guest Post Rules
Personal Finance And Financial Professionals Only.  Here at Stumble Forward we are looking for those that are either a personal finance blogger or financial professional that can share real experiences.      If you are looking to guest post here just to get link don't bother trying because I will not accept your article.
Article Length.  Before you submit a guest post you must agree to the rules.  First off,  your article must be at least 800 words or more to be accepted.
Grammar & Spelling. The article must contain proper grammar and spelling otherwise it will be declined immediately.
SEO.  The article must have an approved title and use suggested key phrases within the article body.  This is done to help promote your article in the search engines and also drive extra traffic to your website creating a win/win for both of us.
Two Links Only. The post itself can only contain one link within the article and one link within the authors bio .  On top of that you are allowed to choose the link destination and anchor text.  However the anchor text must relate to the article.  For example, if an article is about investing a good anchor text would be best investing books.  A bad anchor would be backpacking in Europe since it doesn't relate to the article topic or investing.  Links should also go back to a blog and will be checked.    On top of that any link that is deemed to be linking to bad sites or sites that affect the quality and ranking of Stumble Forward will and can be removed at any time.   Finally, NO AFFILIATE LINKS.
Originality. The article must be unique, original, and informative.  Each article submitted will be checked against Copyscape for copies.  If any exist it will be declined immediately.
Easy To Read.  The article should also be easy to read with short paragraphs, sub headlines, and bullet points.  You should be able to scan the article to get a good idea of what it is about.  No big blocks of texts, this will ensure you get rejected.
Quality.  At Stumble Forward we are looking for detailed articles that cover the topic well, not your normal general content.  In fact we really like it when guest writers add their own unique experiences, and include pictures to convey the message of the article.
Personal Experiences.  Try to include personal experiences with in your articles.   Doing this will give a better user experience to the reader when it comes from someone who has already done what you are trying to teach.
Authors Bio.  You must also include an authors bio at the end of your article that explains who you are.  An author picture is also recommended as well.
Stumble Forward Retains All Rights. Finally, any article that is submitted to Stumble Forward will become the property of Stumble Forward which means we have the right adjust and make any changes to the article if you need to. However your article will never be sold or published anywhere else but Stumble Forward.
Writing Topics
Below is list of specific general topics that we will accept guest post from.  Any topic ideas that  do not match the general topics below will be declined automatically.
Identity Theft – Anything dealing with having someones identity stolen.
Scams, and Fraud.  We are also looking for articles that talk about specific types of scams that people should know about and how to avoid them.
Financial Mistakes.  Finally, we are looking for articles based around the idea of financial mistakes people might make and how to avoid them.
How To Get Started
To get started follow the steps exactly as I have them laid out.  This is critical if you want to get a guest post published at Stumble Forward.  If you do not follow the steps we will not respond to your email. I do this because I get dozens of guest post request each day and don't have the time to deal with everyone but those with serious intent to follow my directions.  So with that out of the way let's get started.
Step 1: Send Me 3 Topic Ideas
The first thing you need to do is send me 3 basic topic ideas.  I do this because it allows me to pick the topic idea I like best.  It also allows me to put together a strong title, and a list of keywords I would like you to include within the article.  On top of that the topic ideas should be  very specific and not general topics.  Refer to the example of a bad and good topic idea below.
Bad Topic Idea Example:  An article on investing for retirement.
Good Topic Idea Example: The 10 best investing books for beginners.
Step 2:  I Will Choose The Topic
From here I will pick one of the topics, put a title for the article together, gather a small list of keywords together for you to include in the article, and finally I will include a small set of instructions that will list out exactly what I'm looking for this article to cover.  Below is an example of what I will send back to you.
Article Title:  10 Ways To Save More Money On Fixed Budget
Keywords To Include In The Article:  Ways To Save Money, Ways To Save More Money, Save More Money on a fixed budget
Article Instructions:  In this article I would like you to cover in detail 10 unique ways to save more money while on a fixed budget, giving specifics as to exact ways on how to do this.
Step 3: Write The Article
Finally, the last step is to write the article once I've sent you back the article title, keywords to include, and the instructions.  From here simply send me back the finished article in the from of a Microsoft Word Document or a similar program of the like. Once I received  the article I will review it and schedule it to be published, and inform you of when it will go live.
As a final note I should mention that I follow these rules very closely and if any article doesn't meet my expectations it will be rejected instantly, with feedback of course.   In the end, I don't do this to be picky but rather because I get dozens of guest post request each day and don't have a lot of time to sift through them all.  So consider the rules carefully and Good Luck.
Chris H.
Send An Email Below
Comments or questions are welcome.