Well this week has been another stellar week and I'm really close to finishing my house in fact the guy laying carpet was still their at 9 pm yet last night.  With the flooring and plumbing almost done the appliances will be showing up bright and early Monday morning and we should be done sometime early next week.  BooYaa!
With all the excitement going on around the house I've also been gearing up to move out of my rental house and in to the new house.  However the good side to all of this is that most of my stuff is still boxed up and ready to move, which should make things ten times easier to move.  Finally, if you haven't seen the pictures below yet, I thought I'd show off a teaser pic before I did my final review of the house.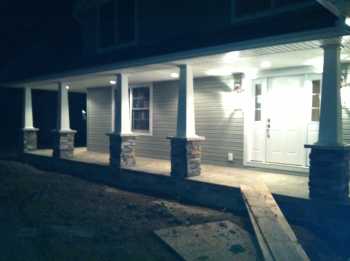 This Week On Stumble Forward
If you haven't had a chance to read latest articles at Stumble Forward you can do so here.
Weekly Mentions
Now on to the weekly mentions.  This week I have several things I want to cover but first I want to say that I was recently contact by Laura from The Frugal Farmer because she noticed that some of her comments weren't showing up on my site for some odd reason.  So I did some digging and found several of her comments plus a few other in my spam.  I am trying to get this cleared up ASAP. So if you notice your comments are not showing up just let me know and I will take care of it.
Secondly their is also a $500 giveaway going on which I mentioned last week by Rather-Be-Shopping.com.  The contest runs till the 25th so make sure you get your entries in before you forget because an extra $500 is defiantly worth it.  On top of that in that article I also covered a really cool Amazon shopping secret that you may want to check out as well.
Third their is also another big contest going on yet and they are giving away $999,99 as well.  This contest runs till the end of the month as well, so sign up here.
Fourth, if you haven't heard yet FINCON 13 was recently announced that it is going to be held in St. Louis this coming October 17-20.  You can check out more details about FINCON here.
Finally,  I've also been nominated as one of the Top Personal Finance Bloggers of 2012 and I would really appreciate your vote here.  I've never been nominated for something like this and I would really like your vote.  Vote now here.
Blogger Spotlight – Reach Financial Independence
This week I came across a really great article by Pauline from Reach Financial Independence called Budgeting: The No Budget Approach.  The article takes a really bold approach and goes against the grain when it comes to what most financial professionals will say, but I like that kind of approach because who's to say having a detailed budget really is the end all way to managing your finances.
The reason I say this is because sometimes we tend to over analyze things to much to the point that it causes analysis paralysis, which basically means we get so detailed about our budget that we forget to do the most important thing of all, follow it.  Instead I find Pauline's approach a lot more refreshing and simple.
In fact I think that's what really makes the best budget, one that is simple and easy to use.  Take me for example, my budgeting tactics are very simple.  I save everything over a certain dollar amount out of every weeks paycheck, take out a small allowance for the week and pay bills with the rest.  When it comes to vacations and the Holidays we save a little bit of that money back each month so we can do the extra things we want.
Finally, this may not be the best budget for everyone, I can agree with everyone there.  Not everyone has good spending habits and to those people it may take a more disciplined budget but in the end the simpler it is the more likely you will stick to it.
Top 10 Articles Of The Week
Back by popular demand I have my top 10 personal finance articles of the week were I list my favorite ten articles in no particular order as the articles I've enjoyed the most this week.
Till next week, have a great weekend everyone.