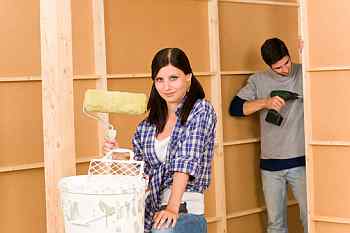 Author and philosopher of contemporary living Alexandra Stoddard once said, "What we do today, right now, will have an accumulated effect on all of our tomorrows." However, that also goes for all the things we don't do, especially when it comes to home maintenance.
My husband and I learned this when an especially terrible spring windstorm knocked a piece of gutter loose on the front of our house. Although it still looked okay, instead of running into the downspout rain ran down the front of our house instead. By the time autumn arrived our basement developed a leak and adding insult to injury was the presence of mold and mildew. If only our procrastination hadn't accumulated into a larger problem!
A Busy Fall Means a Relaxing Winter
Using a yearly checklist is a great way of covering every area of home maintenance before small problems have a chance to get bigger. My husband and I realized that if we were going to avoid future disasters then there were certain maintenance issues we'd have to make a priority over things like a family trip to Disneyland.
With the help of a friend who is in real estate, we devised a checklist of things that we should take care of every year, not only to keep our house in tip-top shape but also to retain its value if we ever wanted to sell.
Driveway and front sidewalk are two things a lot of families tend to overlook. They should be power washed at least once a year. Repair any cracks in the surface of your sidewalk and if your driveway is paved, reseal it to avoid later problems.
Garage clean-up was an area I really loved. If it were up to my husband we'd have a bookshelf filled with old coffee cans and other containers filled with every nut, bolt, and screw known to man. The main priority here is to cut down on the clutter. Safely dispose of outdated products like household paint or motor oil. Clean your garage floor with a product that will get rid of automotive drips. And his cans of junk? We cut the collection down to a reasonable size and donated the rest to our local Habitat for Humanity Restore.
Shed organization was not as much fun for me. Where my husband loves home repair gadgets, I love gardening supplies. However, even I knew when to admit defeat. Bags of outdated fertilizer, pest control products, and rusted hand tools were doing me no good so I checked with my local landfill about the best way to safely dispose of them and out they went. Now I have room for that new rake I've been eyeing!
Decks are great fun for entertaining large groups, an afternoon of lounging in the sun with a good book, or just a quiet family dinner. But if they're in disrepair they could be a hazard to your guests. Keep decks stained and tap down nails working their way up through the wood. If a board looks particularly damaged, arrange to have it replaced by a professional.
Windows along with the exterior of your home should be power washed to remove dirt and buildup from the elements. Repair any broken glass, ripped screens, and caulk any open places around the outside of the window as well.
Gutters are messy business. Because the inside canal is out of sight, it's also usually out of mind until you can see debris like leaves and twigs sticking out of them. Flo-Free Leaf Guards are a great way to keep debris from filling your gutters and will prevent small rodents, birds, and insects from nesting there, too.
Saving Later by Spending Now
One of the biggest reasons why people don't perform home maintenance is because they earmark the money for something else, whether it's for another bill or a frivolous extra like a trip to the family's favorite restaurant or to purchase some kind of oversized electronic gadget like a big-screen television. By the time the problem escalates into something akin to a true emergency, the money isn't there at all which could require the family to borrow the money from relatives, friends, or worse – the bank.
We were intimidated by that list the first year, but now that we have a system of working together, we can knock out everything on the list in a single 3-day weekend. Even our kids and dog get in on the fun! And the small price we pay to take care of small items now saves us not only from facing bigger problems later, but also the high cost associated with repairing them.

About the Author:
Freelance writer Cathy Barber and her husband are self-confessed Starbucks junkies. They'd rather hang out in the back yard with a cup of coffee creation crafted by their best-loved barista than take care of yard repairs. Now that they tend to maintenance on the outside of their home they can do just that! All the information she gathered at http://www.raincontrolaluminuminc.com has been so helpful. Cathy is using the money they're saving to plan another trip to Disneyland with her husband and kids.