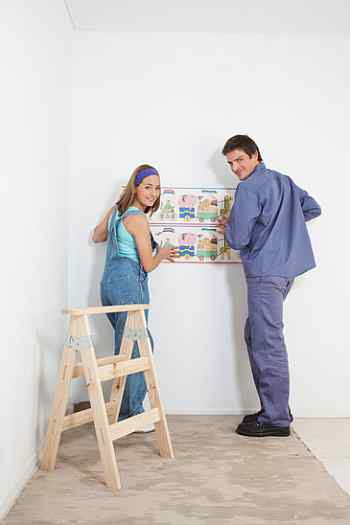 If you are expecting a baby soon, congrats! A new baby in your family is a blessing and something to celebrate, and we often do…for months.
For some people, it also brings on a sense of anxiety due to the change it will bring to your world, especially financially. It definitely can be costly at times. For example, getting ready for the baby to come means purchasing equipment, clothing, and diapers. Fortunately, family and friends are just as excited and often help out by throwing showers.
However, there is one area that I can help you keep your costs down. The nursery. I am going to share 3 ways that you can save money in the nursery, without sacrificing quality and safety. It doesn't have to break the bank to look like it did.
Safety First
Saving money is a great idea, especially if you are living on a budget. However, that doesn't mean we should forgo safety guidelines for our young ones. Make sure you read safety guidelines for baby items, which is readily available on the Internet.
Once you are comfortable in your research, set your budget. Set a little more aside for the furniture that you and your baby will be using most often, such as the crib, changing table, and a rocking chair. These pieces will be used often, so a little more money spent on these for a higher quality is fine.
However, you can also compromise a little on the pieces. For example, instead of purchasing a brand new rocking chair, use a leather reclining chair from another room.
Hand-Me-Downs
One great way to save some money is to consider purchasing second-hand furniture. A family member or friend might have something you could use that might just need a little touch up work. Garage sales and consignment shops are also places to check.
Even if the pieces don't match, that is fine. Some very popular design choices include an eclectic appearance. Or, you could tie it all together with a little decorating. As I mentioned earlier, you could go with a recliner, rather than a traditional rocking chair. There are no steadfast rules in décor, just personal taste and opinion.
And, you never know; you could find a real treasure at a garage sale, by finding an antique that is worth far more than the seller is asking.
Decorating on a Tight Budget
Decorating our nursery was where I had the most fun putting the room together. You have a chance to instill character and personality. This is perhaps the only time you will be able to choose whatever you want, because as your child grows, you will be decorating around their character and personality as it develops.
I have some experience on decorating on a tight budget, as well as in a hurry. Our child is adopted, and we got 'the call' 4 days before the due date. My husband was working around the clock at the time, so it was up to me to get it all done…quickly. I not only had to decorate, but buy all the furniture and baby equipment, diapers, clothing, food…all within 4 days. I didn't have showers ahead of time to help with any of it.
So, of course I needed to figure out ways to do something quick…and on a budget, since I had to buy everything in less than a week. I literally hung up the phone from that call and jumped on the Internet to start doing some research on which items were the safest.
Anyway, here are 6 great budget-minded decorating tips:
Framed Photos. This is what I did; I purchased inexpensive black and white frames, and then printed out adorable black and white baby photos. You can find great stock photos on the Internet, with a huge selection. They are very budget-friendly…sometimes even free. The black and white was a nice contrast to the color palate we chose.
Decorative Shelves. You can find great decorative shelving, for a reasonable price. If you have the time, you could even build your own. Hang a couple of these and they could double as storage for items such as baby powder and lotions. Or, you could place a couple building blocks, books, or stuffed animals to add a nice touch, especially if you choose some with great color.
A Touch of Paint. If you choose to go with used furniture, make it your own with a touch of paint. For example, a boring (or damaged) dresser could have a completely different look if you painted each drawer a different color. Just be careful about the crib. My son used his as a 'teething ring'.
Stencils or Borders. Borders have been around for a long time, but are still popular, and quick if you know what you are doing. Another option is to stencil some words or phrases on the wall. You could stencil the baby's name, or a favorite quote.
Throw in a Rug. Throw rugs can be a way to add a splash of color, inexpensively. This would be especially nice if the floors are a hard surface. Or, you could get some of those colorful foam puzzle-piece floor mats, which also adds an element of safety.
Removable Decals. Ahh, perhaps one of the best decorating items ever invented. I used these when we converted the nursery into a toddler's room. They are easy to apply to the walls and furniture, and easy to remove when you no longer want them…or, make a mistake.
The idea is to get creative. Again, there are no rules that you need to be concerned with, except safety. Try searching on the Internet for some of the things I mentioned, such as decals. It might give ideas for the décor in the room, where you could go with very basic bedding instead…another great way to save money.
About the Author:
As a freelance writer, Kathy Barber often looks to the Internet for inspiration and ideas. While reading all the reviews on http://www.reclinerchairreviews.com, she was reminded of the time when she needed to create a nursery in a hurry, and realized someone might benefit from some tips on that topic. Kathy writes on a variety of other topics including medical, cooking, and online business. Married, with a son, she lives in Michigan and enjoys camping, entertaining, and spending time with family.