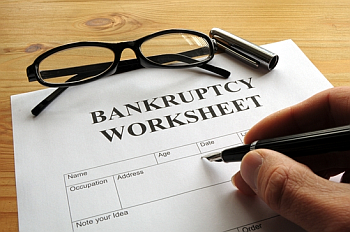 Are you doing everything to avoid bankruptcy?  Do you know how to avoid bankruptcy?
Having debt is a scary situation to be in, especially when it becomes so much that you can no longer meet your monthly minimum payments. You may be drying up your savings, receiving phone calls from debt collectors and worrying about how you'll meet all your financial needs.
If you're in this situation, remember that you're like a growing number of Americans with unmanageable debts. And remember that bankruptcy isn't your only option. In fact, you shouldn't even consider bankruptcy until you've tried several other debt reduction strategies:
1. Budgeting
Create a household budget or try revamping your existing one. Keep in mind when you begin making your budget that you should never spend more than you earn. If you do, you'll get further into debt with no hope of paying off existing loans. This means you should keep in mind your household's take-home income, the amount you earn after taxes.
Begin making your budget by listing all your necessary expenses. Include your mortgage or rent, utility bills, typical grocery bills and transportation costs for a month. Some costs may be difficult to estimate, especially if they are automatically charged to your credit card. To get an accurate picture of your expenses, it's a good idea to save all your receipts for two to four weeks. Don't forget to look over your credit card statement for automated charges.
Your receipts and credit card statements will also reveal how much you spend on non-necessities such as entertainment, dining out and wardrobe updates. Cut out any non-necessities you don't use; cancel subscriptions to magazines you don't read, gym memberships you don't use, and overly fancy cable packages. Then set a limit on your monthly discretionary spending. Make sure it is a limit you can reasonably afford and commit to.
Some funds should go toward an emergency fund. This is the basic principle of paying yourself first. Ideally, your emergency fund should be large enough to cover your living expenses for three to six months. This is useful to have in case you have a medical emergency or lose your job.
Remaining monthly funds should go toward your debt payoff. As a rule of thumb, monthly minimum debt payments should not be more than 10 percent of your take-home income. If they are, your budget will be strained, and you may need to find a more helpful debt solution.
2. Credit Counseling
Find a credit counseling agency, and set up an appointment. Such agencies are often nonprofit, but you may also be able to request counseling services at a local bank or credit union.
Your first appointment will typically last an hour, and the agency may charge you a minimal fee. Your credit counselor will review your finances and make suggestions. Depending on your situation and needs, he or she will help you set up or improve your budget. Your counselor may also suggest you enroll in a debt management plan (DMP). If you agree to enroll, your counselor can help you sign up for one through the counseling agency.
With a DMP, your debts and loans will not change. However, rather than paying your creditors directly, you'll instead pay the counseling agency. The agency will then divvy up your monthly payment and pay your creditors for you.
This type of program has a few benefits. It will simplify your debt payments and make it less likely that you'll forget to pay miscellaneous bills. Creditors may also look upon you more favorably if you take part in a DMP. They may agree to lower your fees and interest rates for the duration of your DMP.
Make sure you know which debts will be paid through the DMP, and continue to make payments toward any debts not included.
3. Debt Consolidation
Similar to a DMP, debt consolidation is a process that simplifies your monthly payments and can help you achieve better loan repayment terms and lower interest rates.
This process, which you can do on your own and does not require approval from your creditors, combines some or all of your debts into one. You will no longer owe your original credits, instead owing a single new lender.
Consolidate your debts by adding up the total amount of money you owe. It's a good idea to include any debts with high interest rates such as credit card debts. Take out a new loan for that amount. You can shop around for the best interest rates and lowest fees. You may be eligible for even lower rates if you take out a secured loan, or one tied to property like your home or car. Remember, however, that if you take out a secured loan and fall behind on payments, you risk losing the property you used as collateral.
If you need help with the lending process, seek out a debt consolidation company. For a fee, the company will consolidate your debts for you.
4. Debt Settlement
In a successful debt settlement, often called debt resolution, your creditors agree to accept less than the full amount you owe. The best way to go about this is to work through a debt settlement firm. A counselor at the settlement firm will propose a plan that can last for months or even years.
Once you agree on the plan, you'll begin setting aside money as directed by your counselor to prepare for negotiation. After you've saved up enough money, your counselor will approach each of your creditors individually. He or she will negotiate with your creditors, offering a lump sum of money in exchange for forgiving the rest of your debt.
Creditors often agree to settle debts because it's better than the alternative — if the debt forces you into bankruptcy, creditors likely will not receive any portion of your owed amount. In debt settlement, however, they are guaranteed at least some of it.
5. Do Nothing
Your final option, aside from bankruptcy, is to do nothing. If you have few assets and little income, you may be "judgment-proof." This means that, while creditors can sue for the amount you owe, they cannot actually take action to collect the money since you have no property that can be seized.
Be careful when taking this approach, however. If you find a good job or inherit a sum of money, for example, your creditors may come after your new assets. If and when they do, your owed sum likely will have skyrocketed with interest and late fees.
Bio: Provided by America's Debt Help Organization, serving the public with thorough and accessible information on financial well-being. We strive to help people in all stages of life, from college, through buying or selling a home, and into retirement.