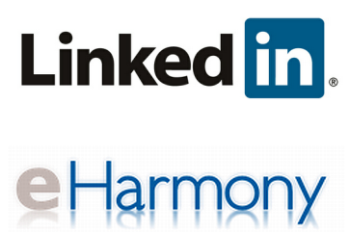 Well it looks like the hackers are back at it again.  If you haven't heard, LinkedIn recently was the victim of a cyber attack.  Hackers were able to pull nearly 5.8 million passwords from the social media giant, and according to Lifelock nearly 60% of the people who had their passwords stolen got hacked already.  Apparently, according to CBS news this cyber attack has been linked to a hacker in Russia.
Now their has also been another development, it seems that eHarmony has also a recently become the victim of a cyber attack. In fact they reported to have millions of account details exposed on the internet as well.  So what does this mean for you?
Change your passwords now if you use either of these websites.
Change Your Password Now
The longer you wait to change your password the higher the risk you run of having your personal account hacked.  On top of here a few precautions and steps you should take to protect you and your identity.
Go Directly To The Website To Change Your Password.  First off, you'll want to change your password but be careful how you do this.  If someone sends you an email telling you to change your password using the link in their email don't do it.  More than likely it'll be a phishing scam.   Instead, go directly to the website and change it.  This way will guarantee that it gets done right.
Create A Stronger Password.  Next create a stronger password that will make it harder for prying hacker to steal.  To do this check out my recent article on how to create a strong password.
Share This Article With Family And Friends.  Finally, take the time to pass this article on to others and share this on Twitter, Facebook, Google + and other social networks to help get the word out.
What Will These Hackers Do With Your Info
The real question is what won't these hackers do with your info.  They could do everything from impersonating you to using your account details to hack other other sites such as your online bank accounts.  The options here are really endless.
On top of that if you are using a paid subscription with LinkedIn or eHarmony they could also be going after your credit card details.  So take some time to check over your credit card account if you have it linked to any of these services to see if their have been any fraudulent transactions as well.
Take Extra Precautions
If you really want to take extra precautions consider looking into an identity protection program such as Lifelock.  Programs like this will be able to safe guard your identity giving you more peace of mind.  In fact this is the very reason I am a Lifelock Ultimate member.
To learn more about the Lifelock Ultimate Program and to get a special discount, check out my review here.
Stay Up To Date
Finally, if you want to keep up to date on cyber attacks like this, the latest scams going around, to things you can do to protect your identity, you can subscribe to my free newsletter which will send you updates directly to your inbox.  So take some time and sign up now.
Chris H.