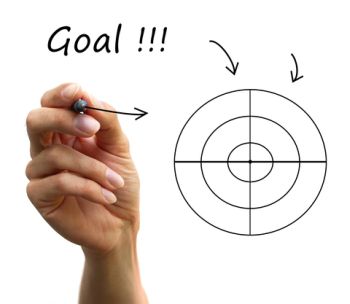 Hey everyone, it's hard to believe it's 2012 already and here at Stumble Forward I have a lot of great things in store for you.  In fact I've recently been reviewing my goal plan for 2012 and after reading Pat Flynns goals over at Smart Passive  Income for the year I decide to publicly share mine with everyone as well.
Reflecting On 2011
First let's reflect on 2011.  To put it simply 2011 was a struggle in a lot of different ways.  In 2010 I earned my first  $1000 in a given month and was excited for was 2011 was going to bring.  However, one of the big problems I faced was distractions.  As an owner of 2 businesses I was stretched thin.  I was working 12 hour days and not getting home much  before 9:30 some nights.
On the other hand in 2011 I also made a lot of great friends and built some great relationships with other bloggers and internet marketers such as Kevin Yu from DebtEye who even gave me the chance to give a little input on for a financial product he is currently working on.  ( Thanks Kevin)
However as you can see their were some great things and some bad.  In fact this year I faced a lot of unplanned issues and mistakes that turned out to be some great learning experiences and lessons learned for me personally.
So now that I've covered  the ups and downs of 2011 here's what's in store for 2012.
Stumble Forward 2012 Goals
When it comes  to setting goals, at least for me, they have to be actionable, meaning their has a be  a clear path of steps in order to achieve my main goal for the year.  On top of that I don't like to set more than 3 goals in a year.  Doing this allows me to stay laser focused and achieve my goals.
So here we go…
Goal 1:  Earn $3000 in a month by December 31, 2012.  Currently I earn around $1000 a month which  is a third of the way there.  I plan to achieve this goal by writing a minimum of 3 new articles a week on Stumble Forward, and reaching out and guest posting on 5 new blogs per week.   So if your a blogger who's looking for a guest post or two let me know. I know this goal won't be easy but it's not impossible either.  On top of that it will force me to go out of my comfort zone which in necessary part to achieve my goal.
Goal 2: Get 3000 Email Subscribers by December 31, 2012.   Currently I'm in the process of ramping up my email campaign as well.  I have around 75 current subscribers and I'm working on a new 7 Day eCourse called The 7 Most Costly Financial Mistakes You Will Ever Make and How To Avoid Them All.  So keep a look out for this eCourse in the next few weeks.
Goal 3: Get 3000 Downloads On The Stumble Forward App by December 31, 2012.  You heard me right, currently I'm in the final stages of releasing the first Stumble Forward App for the iPhone.  This app will allow you to access my latest blog updates to help you improve your finances and avoid financial mistakes.  It will give you scam alerts on the latest ripoff scams going on.  Third, it will also include the Stumble Forward 8 Step Debt Plan that will walk you through the process of paying off your debt, and finally the app will include my twitter updates directly to your iphone as well.
Final Thoughts…
So their you have it, my goals for 2012.  Want to see if I hit my goals in 2012, sign up for my mailing list below and you will get updates set right to your inbox.  You'll also be the first to find out when my new 7 Day eCourse and iPhone App will be released as well.
Finally, at the end of the year I'll let you know if I hit my goals or not.  So join me now.
Cheers!