Getting out of debt these days can be a costly and expensive process these days if you don't know what your doing.  That is, if you know someone who can show you how to get out of debt.
In this article I'm going to talk about a non profit debt relief company called Freedom Debt Management Inc and give you the information you need to get started with this company and get debt free.
What The Freedom Debt Management Company Can Do For You
Freedom Debt Management is debt counseling company based out of Boca Raton Florida and is accredited by the better business bureau with an A+ rating.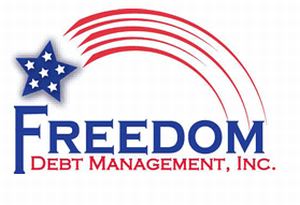 If your looking for real help when it comes to getting out of debt this company has all sorts of programs from free budget counseling, help improving credit over time, free credit report analysis, bill consolidation, foreclosure prevention, educational courses, and of course debt management programs, all done with certified professional help.
What I Like
One of the big things I like about this company is that they have a ton of great free educational information.  Their courses are very extensive and helpful.  They will teach you simple things like how credit works, different types of loans, how much it cost you to barrow money, credit scoring, and much more.
The thing I like about this program is that this companies full intent is not to just get you out of debt but to also educate you so you don't fall back into debt again.  Not a lot of debt negotiation companies will do this but freedom debt management does.
The other thing I like about this company is that they offer a simple quiz to let you know if their program would be right for you.  Doing this can help you get a feel if this program would be a good fit for you or not.
What I Don't Like
Of the things I like their are a couple of things I don't like as well.  For starters what this company fails to show along with most other debt negotiation companies is what kind a fees will be involved.
Now I know it all depends on each persons situation and how much debt they have but I just wish a company could once give an example of a recent customers situation and how much debt they had, the type of debt, the fees they paid and  how the program worked for them.  Real life examples go a long way in my book and is one thing you should be looking for.
Even better would be a video showing recent clients who were helped by their debt professionals.  Personally, if I were to choose a debt program I would want to see something like this.
However before you do consider this company take some time and look at other Freedom Debt Management reviews to get an idea of what kind of company this is.
Who Is This Company For
Next, if you are someone who has a lot of unsecured debt this company could be for you.  Since debts like credit card debt, and even unpaid medical bills work the best for this type of program.
If you are facing some sort of financial hardship in your life right now this could be an option for you as well.  A hardship will prove to your creditors that you do need help and will be more likely to extend a helping hand.
Get Started Today…
So what are you waiting for, get started today.  To do that click here to get a Freedom Debt Management Quote.  Here you will talk with a professional debt counselor over your current financial situation to see if this is the right option for you.